The HBAHBC of Elowen Ada Goerner (aka Sea Dragon)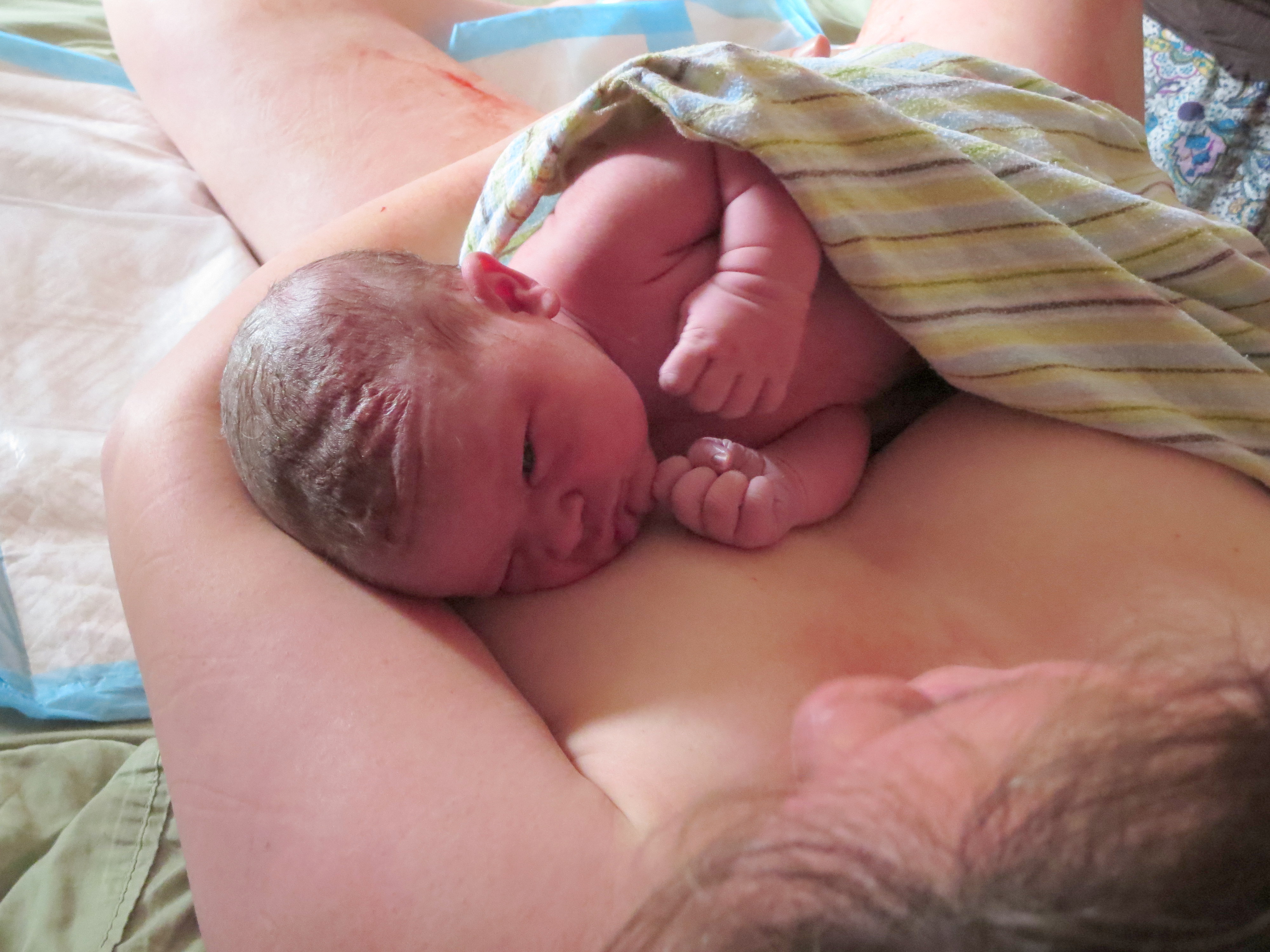 As told by Megan:
This story has to start with the hatching of our first daughter, Loki. As much as we wanted a homebirth for her (and us), it was not to be. She entered the world on March 30, 2011 via a cesarean after transferring to a hospital. She was trapped in the special care nursery for 7 days and then I had to return for an additional 5 days for IV antibiotics. It was a long healing process for all. So this experience played a rather large role when deciding future births.
Fast forward 3 years…
Sea Dragon's labor started during our last Bradley class on Friday, April 4th. We had been lazily timing the contractions and they were about 5 minutes apart and 2 minutes long, but very easy to function through. I would punch Dan in the leg to let him know when another one started. We let our midwife, Nannette, and our doula/birth assistant, Grace, know what was happening. Dan was convinced this was going to be "the night". He ran around like a crazy man trying to get last minute things done. Loki (our 3 year old) took a nice bath with me. We went to bed and the contractions stopped by 2 am. This ended up being a good thing since my due date/have the same midwife buddy was in labor at the same time and did end up having her daughter on April 5th.
Contractions would come and go over the next 9 days, sometimes at regular intervals for a few hours and sometimes randomly. They were always different feeling, though, than Braxton Hicks. We just kept trying to get ready and keep our birth team up to date with anything new. The full moon was coming on the 15th, and most people were guessing this baby would come then. I was going with 4-14-14, because that is a much cooler date.
Dan was getting ready for work on Monday, April 14th, around 6:30 am. I went in to pee. I immediately felt different. I let Dan go to work (he had been working from home quite a bit for the last week "just in case"). The "different feeling" was much lower and more intense than any other contractions I had had up to that point. By 8 am, they were 10 minutes apart. I updated Grace and Nannette. Nannette was in Frederick for a home visit and Grace was about to head there for an appointment for her daughter. Did I mention Dan works in Frederick?
I called Dan to let him know that we were at 10 minutes apart. We decided that he would come home at lunch if things advanced at all. 20 minutes later, the contractions were now 5 minutes apart. I called Dan to tell him to come home. No answer! I put the dogs outside (where they stayed all day) and opened all of the windows (it was an amazing day). Loki woke up at some point and we ate breakfast together in the recliner watching Jake and the Never Land Pirates.
I finally got Dan on the phone. He was walking to his building. He turned around, sent a quick and blunt email to his work that he would not be in that day, and started the hour trip back home.
I told Nannette and Grace what was happening and Nannette decided she would come to our house from her home visit. Grace decided that her appointment would need to be cancelled when I couldn't decide if it was really time or not (did I need to poop or birth a baby?). I texted my friend, Kim, to let her know that today was probably the day. (Kim was the amazing friend who was at the last few/many hours of our attempted homebirth of Loki. She drove us to the hospital in the middle of the night in her 2-door car. She may have been a bit traumatized after the last time. She didn't make in time for this birth, but I think this experience did help heal her after Loki's birth.) I also texted my friend, Roshontia (who would be Loki's person during labor), that today could be the day. I attempted to write a message to the amazing women from my Mother Blessing that is was candle lighting time, but I didn't quite get that far.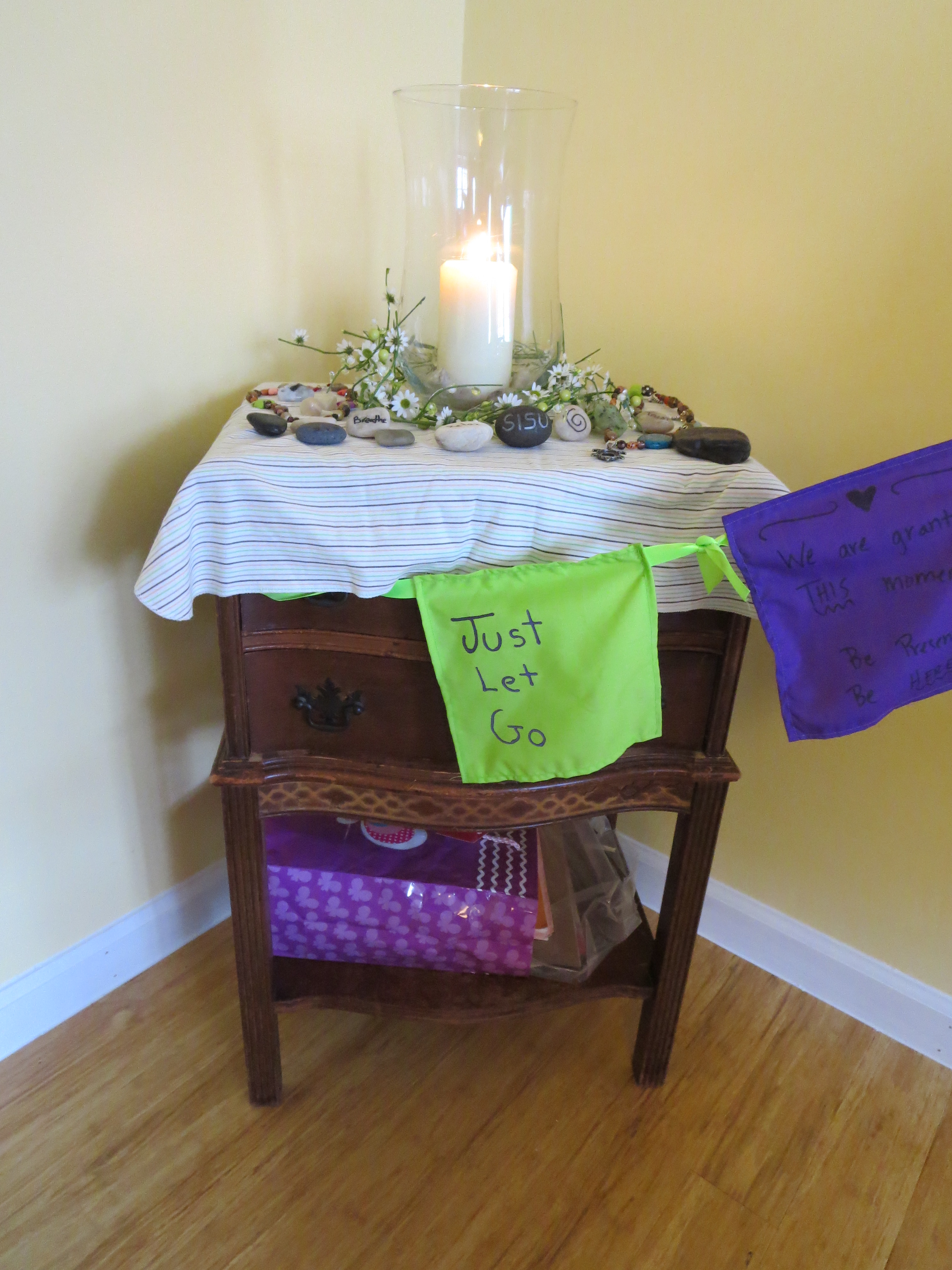 Dan got home around 9 am. He knew as soon as he saw me that this time was different. He went to work getting all the last minute things done (like cleaning up after our horrible cats, getting the birth kit out, the table for the birth supplies, and things like that). I got my birth alter ready in the corner of the living room and also sat on the giant ball. I took a hot shower while Dan was running around. It felt awesome. It was nice to feel clean, too.
Grace arrived around 11. I was on the ball and my eyes started tearing as soon as I saw her. I was so relieved that it wasn't just Dan, Loki, and me anymore. Someone who knew what they were doing!!!!!! Grace was a woman of action! She saw what had been done and what needed to be done. She got the birth supplies out of the bin and organized, got the pool ready in the living room, the bed ready, and I don't even know what else. Oh, and most important of all- she was being there for me!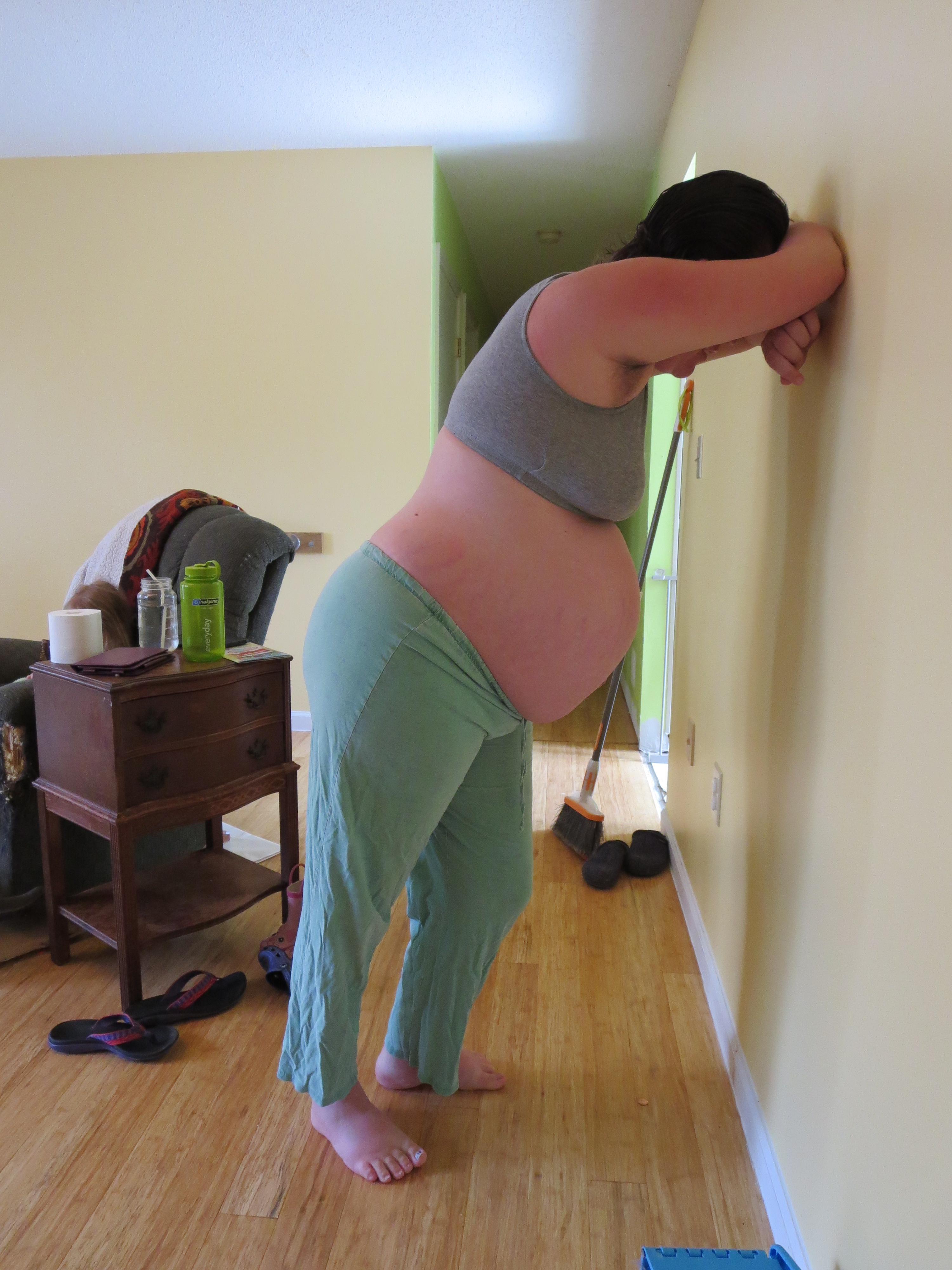 Around 11:30, Nannette arrived. Grace had been making sure that I tried to go with the contractions, dropping my jaw and vocalizing. The pool started being filled with water. Nannette suggested a check in baby position and to pee on the way to the bed. I had a slightly bloody wipe after peeing (bye-bye mucus plug). I got on the bed and Nannette asked if she could do a check, and I said whatever she wanted (I knew that after Loki's labor all of us were wondering how this labor would go). The baby's position was perfect and I was at 9 cm! (Loki was not in a great position and got stuck during her labor.)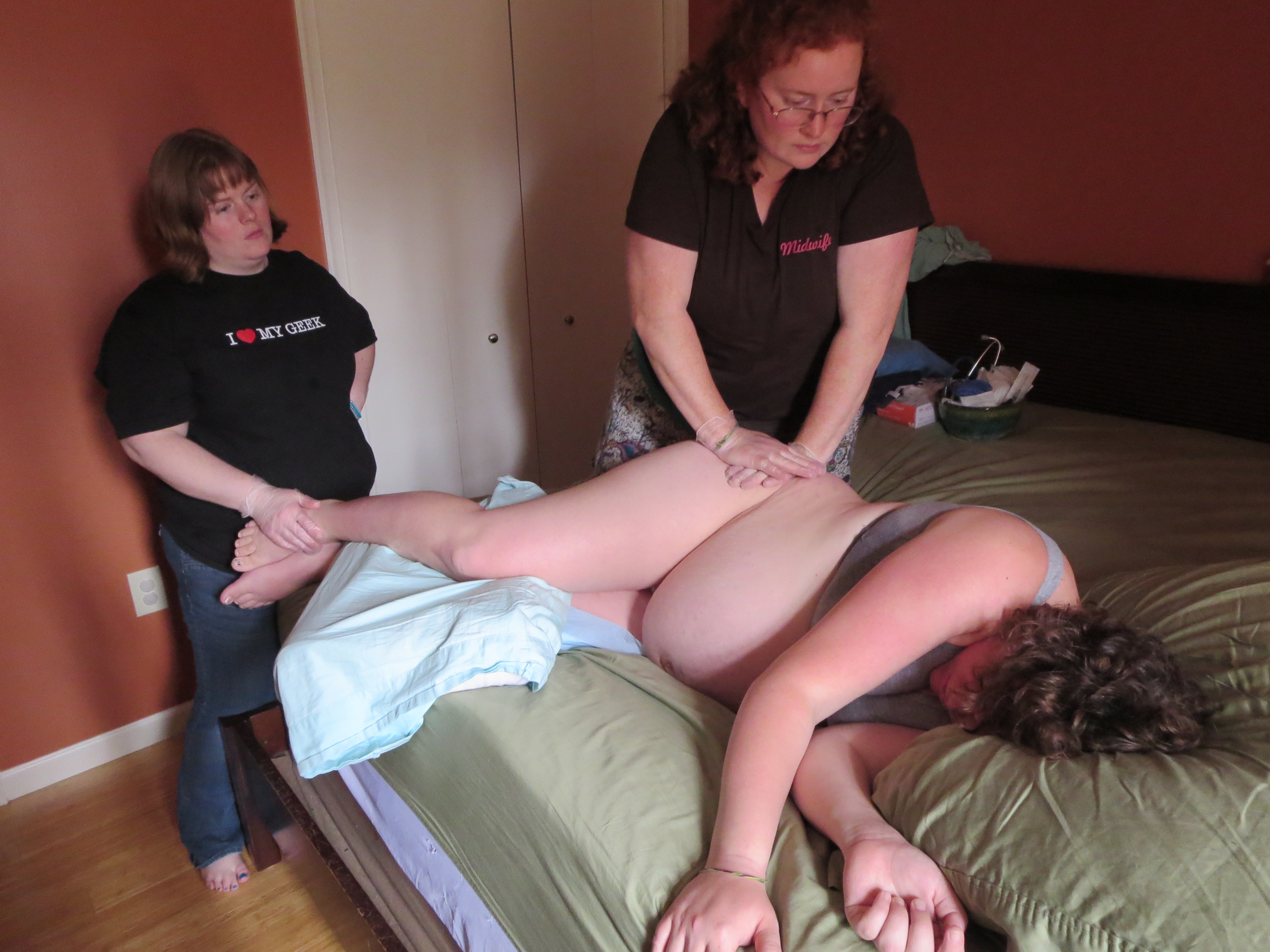 We went back out the living room and got into the pool. It was still a little cool, but I think it helped to slow down labor just a tad for me to catch my breath. Loki got in the pool with me (what a shock that the water loving kid got in the pool!). We realized that we really needed someone for Loki at this point. She would tell me to be quiet and would touch my legs (which I did not want). We tried calling Roshontia again, but there was no answer (found out later that her phone was charging at her desk which she was away from). We (I mean Dan, Grace, and Nannette) started calling people that might be able to come over and that Loki would feel at least a little comfortable with. An amazing mom that we all know with 2 boys of her own that lives 15 minutes away whose husband just happened to be home that day was able to come over. Thank you so much Justine!!!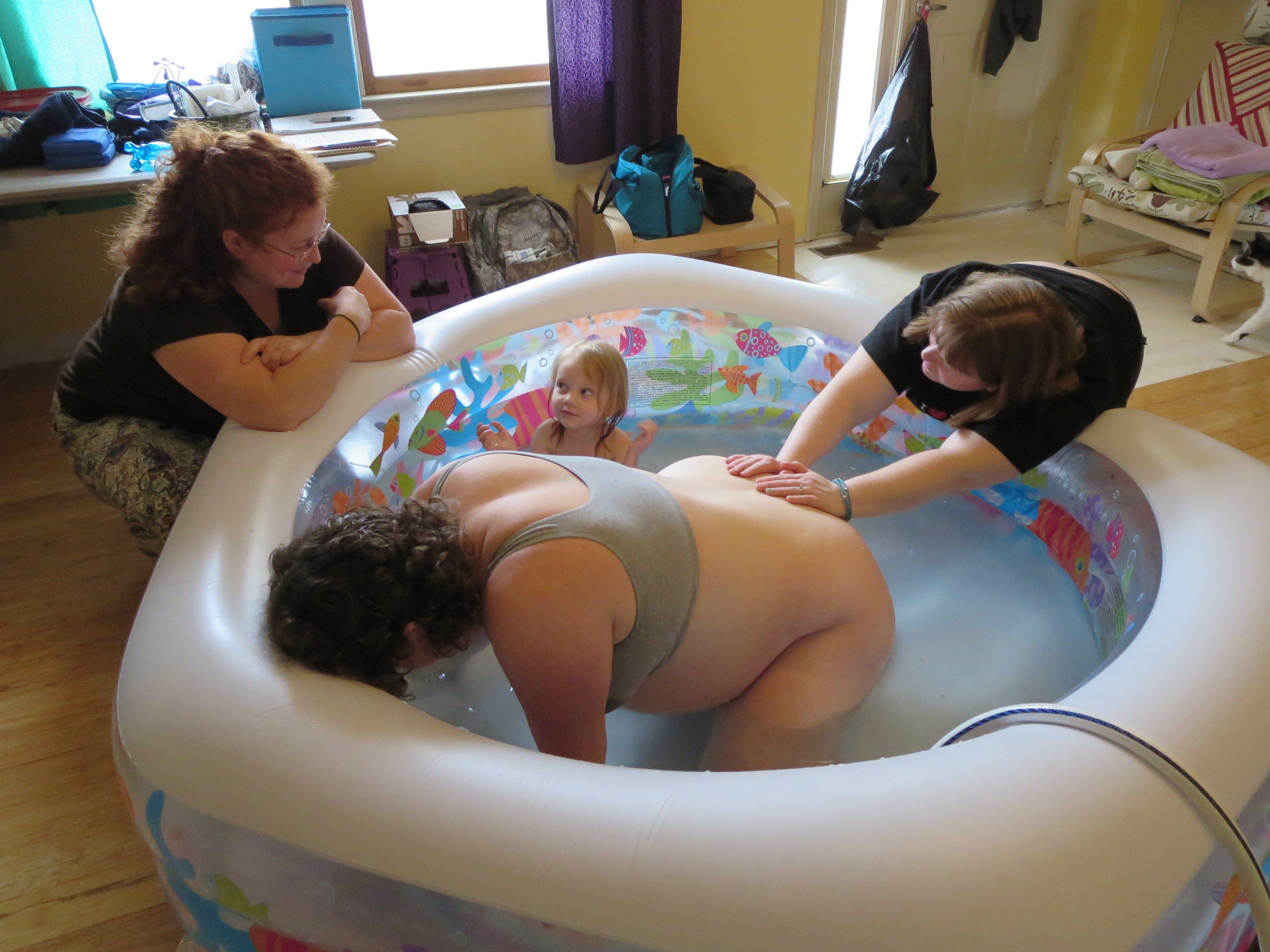 We moved into the bedroom at some point (maybe around 12:30). Nannette and Grace took turns checking on Loki who was still in her fishy pool watching Jake and the pirates. I was leaning over the end of the bed. I know that my hips were getting squeezed during contractions and that I had totally been pushing (at least a little) during parts of the contractions. It felt better so it seemed like the thing to do. My water broke during this phase. I got Dan's shoes wet this time instead of Nannette's (Loki's labor) and the fluid was clear (unlike with Loki)!!! I laid down on my side on the end of the bed for the next bit of time. Doing what I felt my body was telling me to do. I tried to do the horse lips thing but I just couldn't. (At some point Justine arrived and I had my team of 3 plus me in our bedroom for the rest of labor.)
The next move was to the birth stool. The birth stool rocked. Dan had installed a shower safety bar in the living room for squatting (I squatted a lot during Loki's labor and did not want to rely on Dan's hands, especially when those hands could be doing something else), but it never got used. Nannette pushed our bed as far over as it could go so we would have more room (still ended up being only a 4 foot by 4 foot area in the corner of our room).
I have no idea how long I was on the birth stool. The contractions kept coming and I kept pushing. My voice was gone at this point. I wanted my eyes closed. I wanted to keep pressing/digging my nails into Dan's arms. I did not want anyone to talk, especially Dan (no desire to hear how great I was doing). I was in my birthing zone. I remember Nannette asking if I wanted to see my baby's head (No, because I wanted my eyes closed. I would have loved to but it just was not happening at that moment). Nannette asked if I wanted to touch my baby's head (No, because I would have to let go of Dan). Dan says that I was much funnier with my responses. I will just have to take his word. I did eventually reach down to touch the head. So amazing! (I would have loved to touch the head more and actually see what was happening, but I also know that at the given moment in time it was not possible.) At 1:47, the head was out (the ring of fire that I had heard about was not what I felt, just intense pressure). At 1:48, the body flopped/was guided by Nannette to the chuck pads on the ground under me.
OH MY GOSH!!! I did it! WE DID IT!!!!!!!!!!!!!!!!!!!!!!!!!!!!!!!!!!!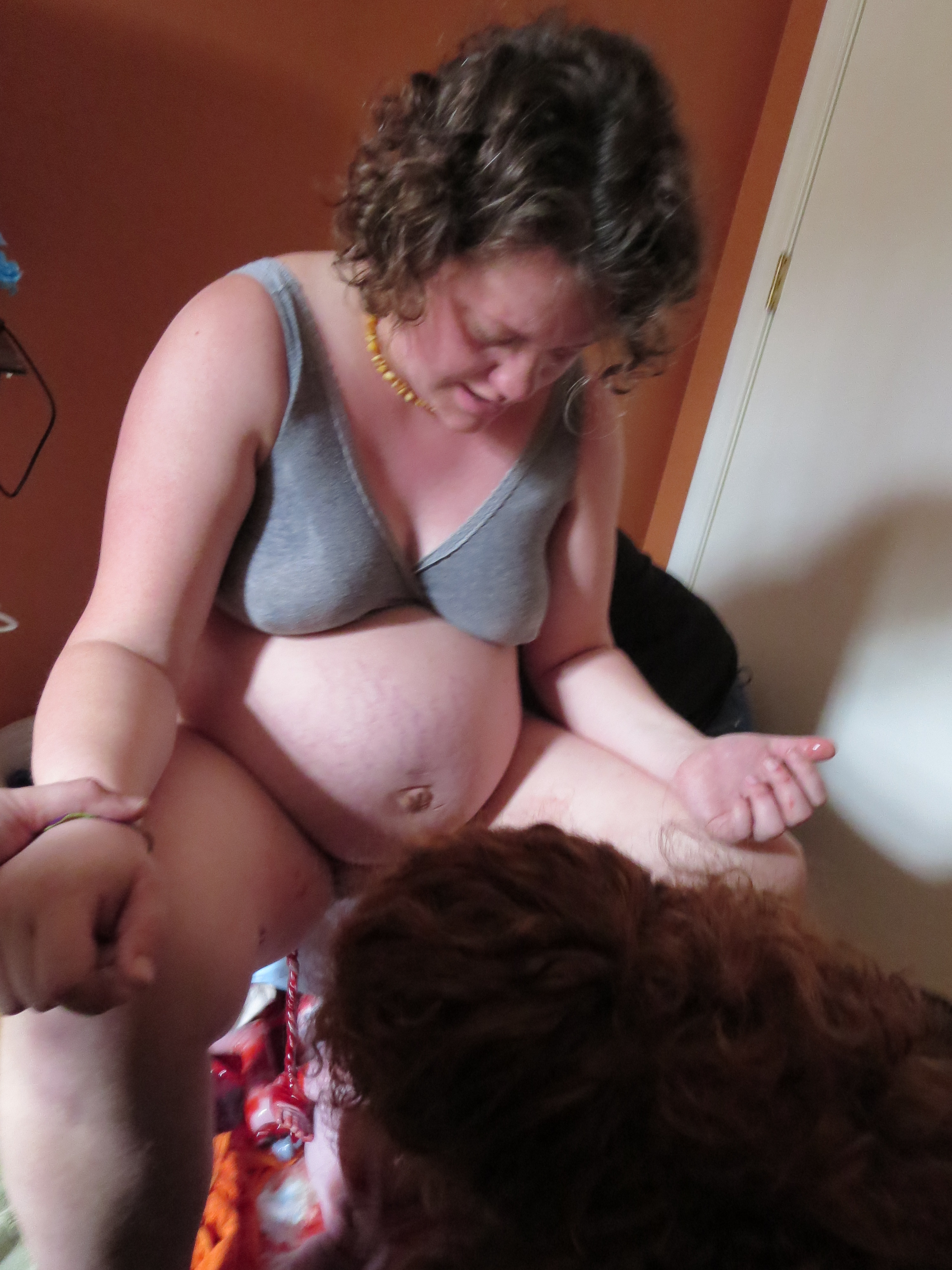 I reached down to touch our second child. I told Dan that we had another daughter (maybe they saw first but everyone let me find out on my own). I was so beyond amazed. Nannette helped me pick her up and put her on my chest while I was still on the stool. I was holding my slippery little bloody baby that was still attached to me. I was helped to the bed and laid down. Daughter #2 wanted her nipple and made sure that we all knew it. She stayed there, awake, for at least 2 hours.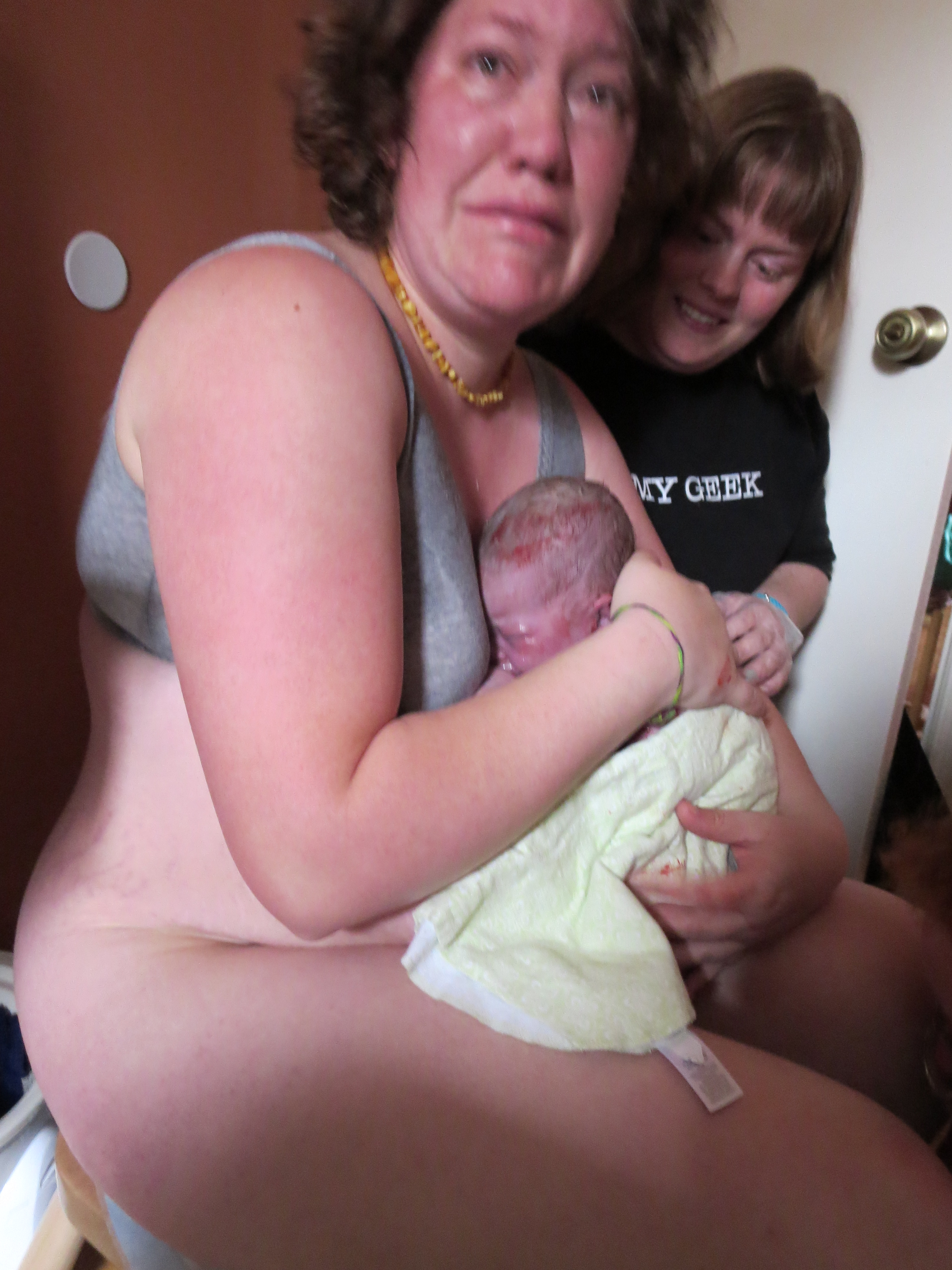 There was a bit of blood and I was told that I had torn when Sea Dragon made her entrance. My placenta came out at 2:05. It was clamped and Dan cut it. Nannette did a neat little placenta tour for us. Nannette then went to work putting 5 stitches in to fix my speed flap.
Dan and I had not decided on a girl name at this point (we knew the middle name, look up Ada Lovelace). He didn't like any on my list and hadn't suggested many alternatives. I had two names I really liked and I asked him when we both super emotional how Elowen Ada sounded. He said he loved it. Post birth baby bliss is a great time to get a name you want.
Elowen measured in at 9 pounds 6 ounces, 23 inches long, and had a 14 inch head. Take that Dr. You Can't Birth Babies Through Your Vagina!!! (The surgeon that performed my cesarean three years earlier gave the reason for needing it being that the baby didn't fit through the birth canal; Loki was 8 pounds 3 ounces.)
My mom was the first person I made Dan call. She was in upstate New York, watching my sister's two daughters (yeah, super timing). She had been calling three times a day to check in. She did call that morning and I told her that it was more of the same (I didn't know it was really the day yet). She was so shocked when Dan told her she had another granddaughter!
Elowen's birth was so different from Loki's birth. It came on strong and fast. There was no time to prepare, no build up. It was a little overwhelming at times, but I never felt like I couldn't do it, especially knowing that Nannette and Grace were there. It was such an empowering and healing experience. I can't even say how much it means to me to have been able to have those two amazing women at both of my labors and almost both of my births. I am more grateful than I can say (to Nannette, to Grace, to Dan, to Justine, and to my own body & mind).
(Read Elowen's big sister's birth story here)
———–
Click HERE to learn more about the Community Birth Stories Project or to submit your own birth story.