As told by Justine:
I began my journey into motherhood with my firstborn son, James in 2010.  2 boys later, we were headed down the baby train again.  Earlier this year, after I missed my period for 3-4 days, I took a test.  We found out on Wed, March 4th, that we were going to be having another baby!  It was a surprise, but a welcome one.  We weren't trying, but we weren't preventing.  My body wanted another baby inside and we did it!  The pregnancy proceeded normally.  I went in a couple weeks later for my first official appointment for this pregnancy.  This one was a little different for me, in that I was finding myself a bit more nauseated than I had been with the pregnancies of my two boys, James born in Jan 2010, and Cole born in Nov 2012.  I had a couple of moments of feeling a little "blah", but those lasted just minutes. With this pregnancy, I felt kinda yucky for several days.  My appetite wasn't like it usually was, and nothing sounded good enough to eat.  That passed after about 6 weeks, a welcome feeling.  I'd go in each month and they'd tell me everything looked great, weight gain was good and I was feeling totally normal!  My blood sugars slowly started creeping up as the weeks went on, and I went on a medication to help with that.  At 11 weeks, I could feel my baby inside, swimming and kicking me.  Such amazing feelings, knowing my baby was exploring it's world and creating muscle and strength as he grew.  The second trimester came on soon, and it felt great to be moving along so quickly in this pregnancy.
On Friday, June 5, 2015, I went in for my normal obgyn checkup, at 17 weeks and 5 days.  The nurse Vinnie and I joked with Dr Murray about his annoyance at the little book included in my Blood Glucose monitor.  But the jokes quickly stopped.  The usual fetal doppler was placed on my belly and was moved and pushed, searching for that beautiful, steady heartbeat.  We couldn't find it.  This is not unusual for the doppler, as baby can be fidgety, and can take some time to find.  Dr Murray kept trying, then finally asked Vinnie to bring in the wheeling Ultrasound machine.  The heartbeat was not detected there either.  Things were getting serious and I was terrified.  I was set up to go get a more thorough examination with the hospitals level 2 Ultrasound machine.  I needed to walk across the street, register, wait, go to radiology, and wait again for my turn.  I finally got the Ultrasound about 40 minutes after leaving Dr Murray's care.
The radiology tech began her examination and told me right away that she could not discuss any of her findings, but that the radiologist would be discussing those results with me.  She began her examination, with the typical measurements of head circumference, bone length, etc.  Then came the chest, blown up for heart rate.  I saw a strait line.  She repeated this step.  Same strait line.  I said, "you can't find a heartbeat, can you?"  She hesitated, and told me again that the radiologist would have to discuss that with me.  I lost part of my own heart in that moment.  Turning my head away from the monitor, I quietly broke down.  The tech touched me and said "I'm sorry", and continued her examination.  This was not good, hearing her say that.   After emptying my full, uncomfortable bladder following the exam, I knew I had to wait in that cold, dark room for someone to return for me.
The tech returned and informed me that the radiologist had sent the images back over to the Dr's office,  I was to go back and have another doctor discuss the results with me, not stay and discuss them with radiologist, as I'd been told.  All the while, I am losing hope, finding myself falling into a hole of darkness.  I walked back to the Dr's office, told them who I was, and no sooner that I sit down, am asked to return to the desk.  The receptionist informed me that the Dr would actually be calling me with the results, and they were sorry to have me come back.  I couldn't believe that these results, what my life was hindering on, were going to be shared with me not in person, but on the phone.
After being gone from home for 3 hours, I was really eager to get back to my safe zone, back to my boys.  My friend Marci brought her older son and was at my home hanging out with my boys.  I was glad to have a friend there waiting for me, to hear the results from the doctor.  A couple hours later, Marci left, and I happened to miss that very important phone call from the Dr.  I immediately called the office back after seeing the missed call on my phone.  As you can guess, there is no doctor answering the phone, and actually getting them on the phone proves impossible.  The nurse tech that took the call explained to me that the Dr had attempted to contact me, could not reach me, and would be seeing patients all throughout the afternoon.  She would get back to me when she had the time.  I couldn't believe that yet another hurdle prevented me from getting these answers I so desperately needed to hear.  I explained to her my frustrations and asked if there was any way to speak with someone else, who could tell me the results.  She explained who she was and that she had the results right in front of her.  And so it was, the confirmation of the words no mother would ever want to hear.  There was no heartbeat detected at the Dr's office nor the hospitals ultrasound.  My heart fell to pieces that moment.  Here I had this swollen belly, and the baby that my body expanded for, nourished and kept safe, was. . . gone.  Shortly thereafter, I spoke with the Dr, who told me about a big decision to make; what I would be enduring in my near future.
I had 3 choices; go into miscarriage naturally, have a D & E (dilation and evacuation are performed in the 2nd trimester), or go into labor and delivery.  Immediately I chose a D &E, as the first and third option sounded horrid to me.  It seemed disturbing to me to, and I began to wonder about how my body would expel this baby.  How could I go thru the effort of having a baby only to leave the hospital empty handed?  Monday morning I was to call and schedule an appointment time for Tuesday to have the procedure done.  Another friend asked if I'd needed contact info for Now I Lay Me Down To Sleep, a non-profit organization who photographs early infant loss.  My first reaction was that I didn't want to see "it", and quickly told her that.  I wasn't one of those women, who had a child that lost their life.  Or was I? I began to read women's experiences on online forums about D & C, and read women's stories about giving birth and seeing and holding their babies.  I realized that I would always wonder what my baby looked like, and worried that I would make the wrong decision.  From what I had read, women who chose not to see their baby deeply regretted it.  I wanted no regrets, and to feel like I had made the right decision.  I'm so glad I had the weekend to read and make that decision, probably the most important one in my life.
I decided that I would go into L &D, to have my baby, hold them, and yes, get pictures taken.  Earlier in my pregnancy I had chosen a doula, a new friend that I created when we were both pregnant with our now 2 1/2 year olds.  I'd met her at Birth Circle and was happy to have her as my own doula when she began her official journey into becoming a birth worker.  Lauren stepped right up and told me she'd go along this chapter in my life with me, picking me up, staying with me and bringing me back home after the birth.  Contacting a photographer was something I could not do and Lauren found one to come to take pictures after the baby was born.
All weekend long, I read women's stories about having their baby and holding them before letting them go.  I needed to prepare myself.  I needed to hear about their labors, both long and short.  I feared the hospital stay would be long, and would make walking out empty handed that much worse.  Looking back at it all, most of my anxiety was days leading up to the birth.  As I write this, it's only been 5 days since my labor. I don't know if it gets worse or better from here on out.
On Monday morning, I finally got in touch with someone who told me about a plan.  I could come in that night or the following morning.  I needed to proceed as quickly as possible, as I was afraid I would change my mind again.  We scheduled my induction for 8pm that night.  I prepared the boys clothing and overnight things and my parents came and got them.  I packed my own bag and kept going, not slowing down to allow my world to begin to crumble.  My husband returned from his mother's funeral services briefly before leaving to fly out of town again.  Yes, my mother in law ended her battle of cancer and I lost my baby, oh, and a cat! all in the same week.  The most terrible week of my life.  We got to hold each other and mourn our losses without distraction of kids.  My friend Megan came and hugged me, held me and cried with me about what I was about to and was going through.
I was feeling nervous, excited, worried, scared, and just a bunch of emotions mixed up together.  I remember myself just sort of moving along electronically, with no direct course.  Pacing back and forth, with dread, yet excitement still lingered on the surface of it all.  My doula came and helped me pack the car, and close the house.  Megan would be watching the cats as we went on to the hospital.  The drive itself was quiet, but I honestly felt brave about it. I  knew I had to go through this harrowing experience to be able to move forward in my life.  We quickly checked in, found my room where I got into my hospital gown and settled in the bed.  Soon we met the nurses, doctors and interns.  The doctor was absolutely incredible and went into great details about each and every step we took.  She covered things I never would have thought of and answered my questions as best she could.
Around 9pm, Cytotec was placed on my cervix to begin dilation.  I was to be checked and given more Cytotec every 6 to 12, as needed.  My first check I had gone to 1 cm, so I felt like things were moving along pretty well.  I was given more Cytotec and progressed to 3+cm within a few hours.  From what I had read, women dilated to 3 or 4 cm to birth this tiny baby, and I was never asked to begin pushing.  It was entirely up to me how I wanted this to go.  They were so gentle!  During the time between checks, my water broke.  We found out baby was breech, so this slowed things down a bit.  With each check, his body had descended until he was basically entirely out, but his head was still inside the cervix.  I would feel pressure and they would continue the checks. I laid down to rest on my side for a while, but the pressure and discomfort continued.  I looked up at Lauren and told her I was ready.  She went and got the doctor, and she returned to catch the baby.  It was only one small push I needed and the baby just slipped right out.  Lauren held my hand and told me she could see my baby.  They cleaned him up a bit and placed him on a blanket and brought him to me.
I had the exciting moment of opening his legs and finding a small penis beginning to form.  It was so neat that I got to discover his sex!  The placement of him in my arms felt completely natural.  It never felt uncomfortable, or disturbing, or raw.  This was my baby and I needed to see him!  I explored every square millimeter of his body, completely fascinated at this remarkable example of human life.   It was all there. 10 long fingers (he had hands like my sister) and 10 toes that curled under his long feet, like his big brother Cole.  His profile was like his daddies.  A perfect, tiny human being, fitting inside my hand completely.  Most of the time I just looked at him and held him flat on my chest.  His skin was so delicate that just handling him damaged him a bit.  I decided to name him Alexander.  I got to hold him for about 3 hours total.  In the meantime, more Cytotec had been given, this time orally, for the birth of the placenta.  Gentle tugs and cervical checks proved unsuccessful, so I needed to go into surgery for a D & C.  The surgery took about 2 1/2 hours, and I returned to my room.  I had the choice earlier to have  Alexander back in the room after surgery, but I chose not to.  As I said, his skin was so thin, that I wanted to keep the integrity of his body as best I could.  It was time to say goodbye to him and that actually wasn't as hard as everything else, it seemed.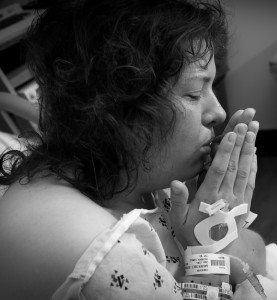 I rested back in my room for a while before paperwork was begun to release me.  The doctors and nurses checked on me and answered any questions I had.  My friend Channa had flown in from out of town and was there waiting my return from surgery.  My doula drove me to the drug store to get meds and pads and we met my friends at the house.  I said goodbye to Lauren and got a good nights sleep, thanks to the drugs I as given before coming to.  Every day, friends have been pouring in and out, bringing food, gifts, and so much love.  I could have never survived this with so much strength without the help of my friends and family.  So many people were touched by Alexander's life and I'm so grateful to have met him and honor his life.  My journey will be long and difficult, but collapsing is not an option.  My job as a mother continues. . .
———–
Click HERE to learn more about the Community Birth Stories Project or to submit your own birth story.