As told by Amber:
I'll start by saying we weren't sure if we ever wanted another child. We were happy with our smart and healthy son. I suffered with bad PPD/PPA after dealing with a c-section birth and awful recovery last time. However, I didn't feel that my family was complete. I longed for a daughter, even though I couldn't pick the sex, I still wanted to have another baby. This time, I armed myself with tons of information on VBAC (vaginal birth after cesarean), hired a doula, switched care providers/hospitals. I also made the tough decision to stay on my medication during pregnancy. I knew I needed to be mentally healthy to take care of myself and son. I was scared and stressed, but I kept up with my therapy and doctor appointments. They were all confident in me, and that helped a lot!
I found out I was pregnant on July 20, 2014, and was so happy!! Stressed too, but happy! I had a pretty uneventful pregnancy. No big issues, thankfully. On November 4 we found out we were having a healthy baby girl! I cried tears of joy! I started buying all stuff pink!! :-)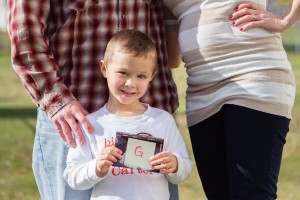 My pregnancy progressed and progressed, and my due date came and went. Goodbye March 27, 2015! I was starting to get worried because I knew I'd start getting some pressure from my doctors office.  However, I knew my body better than them. I was charting and knew my cycle and knew my conception date. I was right, they were wrong, and I knew it. I wasn't going to "just listen," this time. Doctors don't always know best!
They scheduled me, anyway, for a repeat c-section at 41 weeks (April 3). I was hurt, stressed and uncomfortable. However, I told them I wasn't coming for the section. A non-stress test was performed, baby girl was perfect and so was I. I was not going to just walk in and lay down on an OR table to be cut open again, unless it was a true emergency and it wasn't.  The doctors weren't happy, but I was in charge, I hired them so they had to listen to me this time.
On April 3 at 11:15pm my water broke, on its own, right after going to bed. This was it!!!! She was ready! My husband called my doula and she was there by midnight. I decided to labor at home and get some rest. We left for the hospital around 6:00am on April 4. Once there my birth plan was read and respected entirely. I walked the halls, bounced on a birth ball, rested, ate, hydrated myself (no IV this time…yay!) and got in the labor tub.  I didn't let them check me, so I wasn't really sure of my progress that often. I knew it was progressing though because of my contractions. I also decided I didn't want an epidural either. I didn't want to be drugged up, like last time, and didn't want anything in my baby.  I also didn't want a cascade of interventions that could up my c-section risk. So I continued to labor naturally.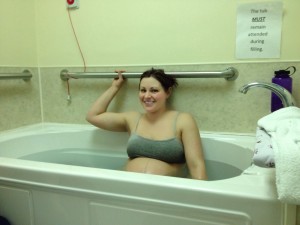 Towards the end, I was in so much pain and was begging for pain relief. I wanted that epidural, but I was 8cm and my doula and nurses continued to talk me out of it.  The anesthesiologist even came in and talked me out of it! At that time I was 9 and a 1/2cm dilated, with a cervical lip. I was told not to push because it could swell the cervix. That was the hardest thing ever!!! My body was pushing, but I had to not allow it. My doula helped me breathe properly to get through it. The nurse checked me again and pushed the excess cervix away, and it was finally time to push!  After almost 5 years and 18 hours, I really was going to get my natural VBAC!!!!
I pushed for maybe 10 minutes, and she was out!! I did it! I wasn't broken, and pushed a baby out of my vagina without any medications at all. Calianne (Cali) Renee Ashton was born at 6:57pm and weighed 7.75 ounces. I was on such a birth high!!!! It was such a healing birth experience. She was beautiful and healthy and picked her own birthday. I got to experience baby being put on my chest right away and holding her immediately.  We delayed all newborn procedures and just snuggled and tried nursing. She was so alert and happy. She pretty much latched on right away too!  I thought I was dreaming!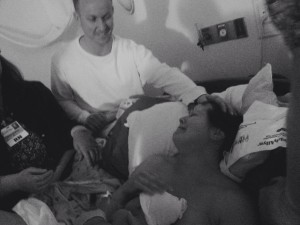 She's now 4 months old, and such a happy and healthy baby.  I'm so thankful for my two different birth experiences and healthy children. I feel I can help a lot of women since I've experienced both and have learned so much. She's still nursing great and so far, no PPD/PPA this time!  Carter loves and adores his baby sister as well.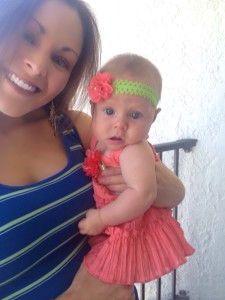 (Read Calianne's big brother's birth story here)
———–
Click HERE to learn more about the Community Birth Stories Project or to submit your own birth story.