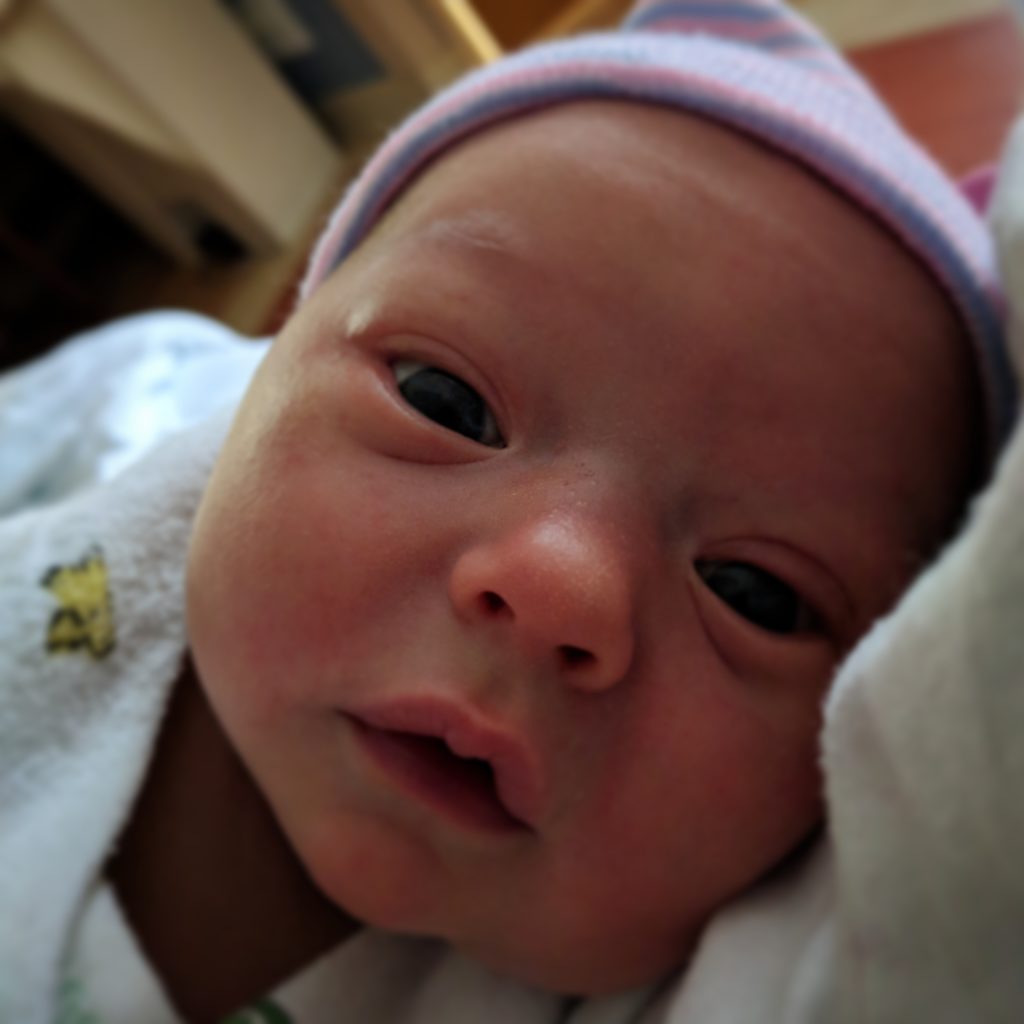 As told by Kellie:
Tuesday – 8.15.2017
40 week appointment
Cervix is closed, soft and favorable. Baby is head down, and she looks great on the ultrasound. I went ahead and scheduled my induction for the following Monday at 8pm. I left the appointment somewhat discouraged.
Dan (hubby) and I decided to go take a walk even though it was super humid. Our walk ended up in stopping to get some ice cream and that night we decided to get something spicy to eat. We ordered spicy wings from BonChon and they were so spicy that I felt that my mouth was on fire. I had to have ice cubes in my mouth after every wing. I then bounced on my exercise ball for a while until we decided to go to bed.
Wednesday – 8.16.2017
My husband got up to go to work for 12 hours at 5am. I woke up with a slight stomach ache around 9am. Despite feeling slightly uncomfortable I decided to eat the 6 leftover spicy wings for breakfast. I was committed at this point to get the baby out because I was more than ready to meet her. I bounced on the exercise ball, walked on the treadmill and cleaned the house all day long. I talked to my mom and was reduced to tears thinking about having to be induced if she didn't come on her own.
I decided to text Dan just to let him know that I wasn't really feeling the best. My stomach was hurting (still thought it was from the spicy wings) and my back was also sore. I made dinner and Dan got home around 740pm. I ended up not eating and decided to take a shower since I was so uncomfortable. I felt slightly better after my shower and Dan and I just hung out listening to music and watching the baby move around like crazy. Around 1030pm I decided that I was hungry, so my husband made me some toast and eggs. After that we went to bed.
Thursday – 8.17.2017 (Leila's birthday)
1:00am- I woke up to a crampy stomach and felt like I needed to go poop. I got up and tended to what I needed to in the bathroom and as I was headed back to bed I felt another cramp that lasted about 40 seconds and then went away. I decided to get on my contraction app and start timing them just in case it was actual labor. After about 15 minutes and getting two of these pains that each lasted about a minute and we're about 8 minutes apart, I decided to wake my husband up. Poor guy had worked a 12 hour shift and here I am waking him up out of a deep sleep at 130am.
From 1:30am until 3:45am I was getting contractions every 4 to 8 minutes and they were about a minute long. Dan helped out by applying pressure on my back while I leaned over a desk in our room for stability during each contraction. He also loaded up the car and tidied up a few things around the house between my contractions. Around 2:20am we started discussing when we should of leave for the hospital since we lived about 40 minutes away. I feel like my contractions weren't staying 5 minutes or under consistently enough to go yet, so we waited. At this point the contractions were getting pretty painful, but I was still able to breath through them and talk through them. Around 3:30am I decided to get my makeup out to do between contractions so I could get my mind off of labor and get ready for the hospital.

3:48am- Another contraction began and about 5 seconds into it, my water broke. It shocked me and as it was happening I said, "Water, water, water, my water is breaking!" I obviously couldn't do anything other than stand there and wait for the gushing to stop. As I looked down most of it was absorbed into my pajama pants and underwear, but there was a small puddle that I thought looked like a funny color. As I walked to the bathroom Dan started cleaning up the floor and I asked him if it looked like a weird color. He said that it looked a little weird and as I dropped my pants to sit on the toilet I saw that my water was a green color. I immediately knew that we had to head to the hospital. Dan calmed me down after I had a small freak out moment about the fact that she had pooped already. I cleaned myself up, got a towel, put a puppy pad down on the passenger seat and we were on our way to the hospital within 5 minutes of my water breaking. I called the doctor, my mom, and Dan's mom on the way.

4:45am – We arrived at the hospital and had to go through the emergency entrance since it was so early in the morning. At this point my contractions had pretty much stopped and we had to fill out some paperwork to get admitted. As we were waiting for a room, a lady came in that was 8cm dilated and they gave a room to her first. We ended up going to triage where I changed into a hospital gown and a pad since my water was still leaking. Luckily we didn't have to wait in triage and we walked to our delivery room soon after.

5:00am- They started setting up the monitors and my IV and then they checked me and I was 4cm dilated. They decided to start me on pitocin since my contractions weren't close enough together anymore and we waited.

7:00am- My doctor came in and when she checked me I was 5 to 6cm dilated. At this point my contractions were getting pretty painful, but I decided to wait on the epidural since I was still able to get through them. I believe my pitocin was at about a 6 at this point.

8:00am- I finally asked for an epidural since I was having most of the pain in my back during my contractions. They checked me again before I got my epidural and said that I was 7 to 8cm dilated. The anesthesiologist got to my room really quickly and set up the epidural before 8:30am.

9:00am- The epidural was in and I was feeling some relief, but I was still wincing from contractions in my lower pelvic area. The anesthesiologist came back in to give me a booster, and then I was fine. They checked me again at some point and said I was 8 to 9cm dilated. Baby girl wasn't responding well to the higher levels of pitocin, so they kept trying to change my position.

10:30am- My doctor came in to check my progression. He determined that I was only at 7cm and my cervix was still very thick. Apparently after a discussion with the nurse he found out that she had stopped my pitocin entirely. They had been giving me pitocin at a 10 and then stopped it cold turkey. My doctor did not seem impressed since it stalled my labor. He had them turn it back on at half the dose to see how baby responded.

11:30am- Baby was doing ok with the pitocin, but not super well. We continued to keep an eye on her and when my doctor checked me I was 9cm dilated. He optimistically said that we might have a baby by 2pm.

11:45pm-1:15pm- Dan and I took a nap. I started feeling contractions again in my lower pelvic region. I tried to fight through them knowing that it would be better for when it came time to push. However, I couldn't push through the pain, so I pushed the button for more epidural around 1pm.

1:30pm- I was dilated to 10cm and they decided to have me start practice pushing. After a few practice runs, they determined that I was too numb and that baby was still too high. They decided that I needed to labor down otherwise I would get too exhausted.

2pm- They decided to shut off my epidural in order to get me ready for pushing.

3pm- I was really starting to feel my contractions in my lower back and I was feeling quite a bit of pain. Our nurse ended up needing to be in another delivery room and we got our back up nurse. I don't think I would have had a vaginal delivery had it not been for her. The other nurse that I had didn't impress me very much anyway so I was glad to see her go. My new nurse decided to have me try out the peanut ball to get baby girl to move down. It was super uncomfortable since I was also gaining feeling back and feeling every contraction. My husband says the tone in the room felt like everyone was thinking her birth was going to be finished via c section, but this nurse was determined to get me the vaginal birth I had hoped to have.

3:55pm- They started prepping me for pushing once again. At one point my nurse was prepping things and my body needed to push, but she wasn't there to hold my leg, and I told her I couldn't help it and that my body was just pushing on its own. My husband was the most supportive person and I truly believe that I wouldn't have made it through this process without him. He helped calm me down and reassured me that all my pushing was getting me closer to meeting our little girl.

4pm- My doctor came in and acted surprised that I had made as much progress as I had. He said, "Ok, let's try and do this" and he got ready to deliver our baby girl. My contractions were pretty intense in my back, but my husband just continued to tell me that I was doing a great job. I pushed for about 15 minutes and…

4:18pm- Leila René Ganoung was born. She was 7 lbs. 7 oz., 20 ¾ inches long, and perfect in every way. It was the moment I became a mother and my husband became a father and it was the best feeling in the world. I will never forget this life changing moment and I am so grateful for my husband, the nurses, and my doctor for making it all possible.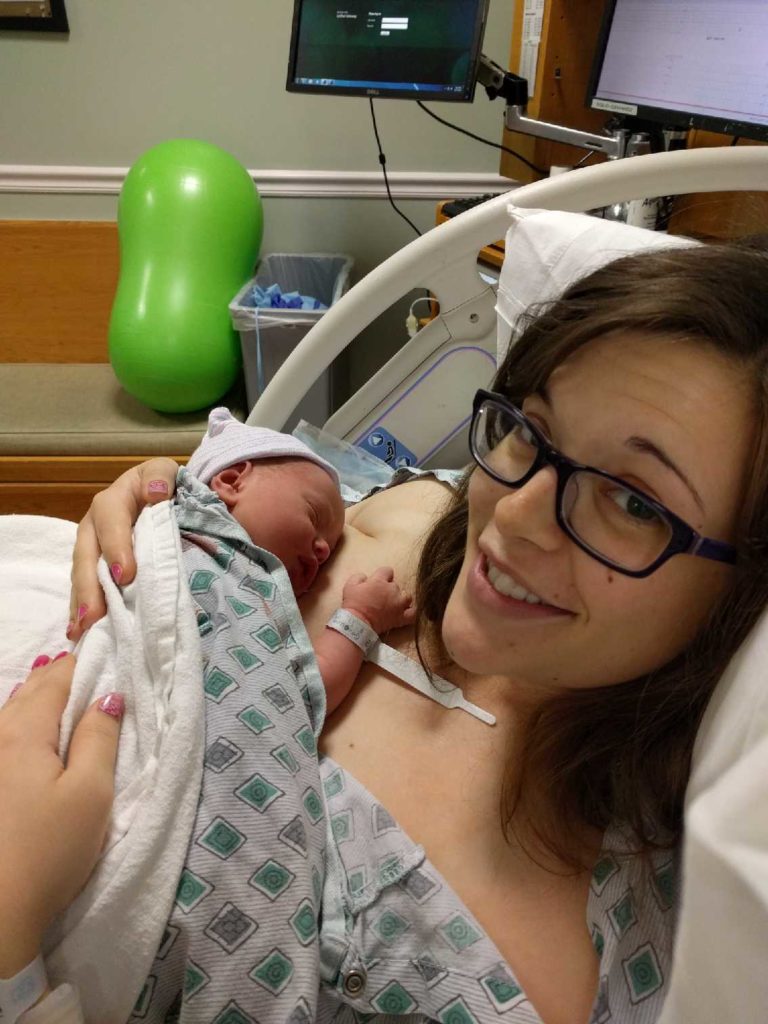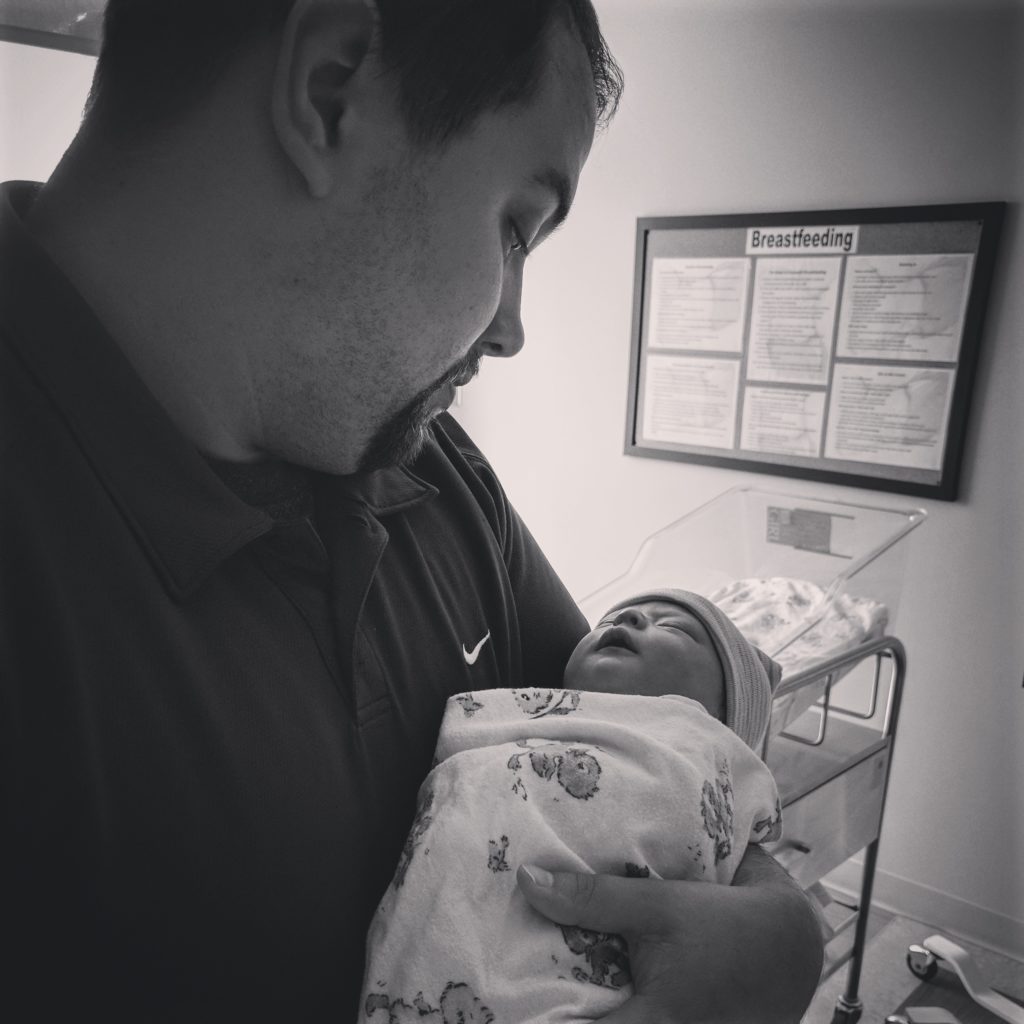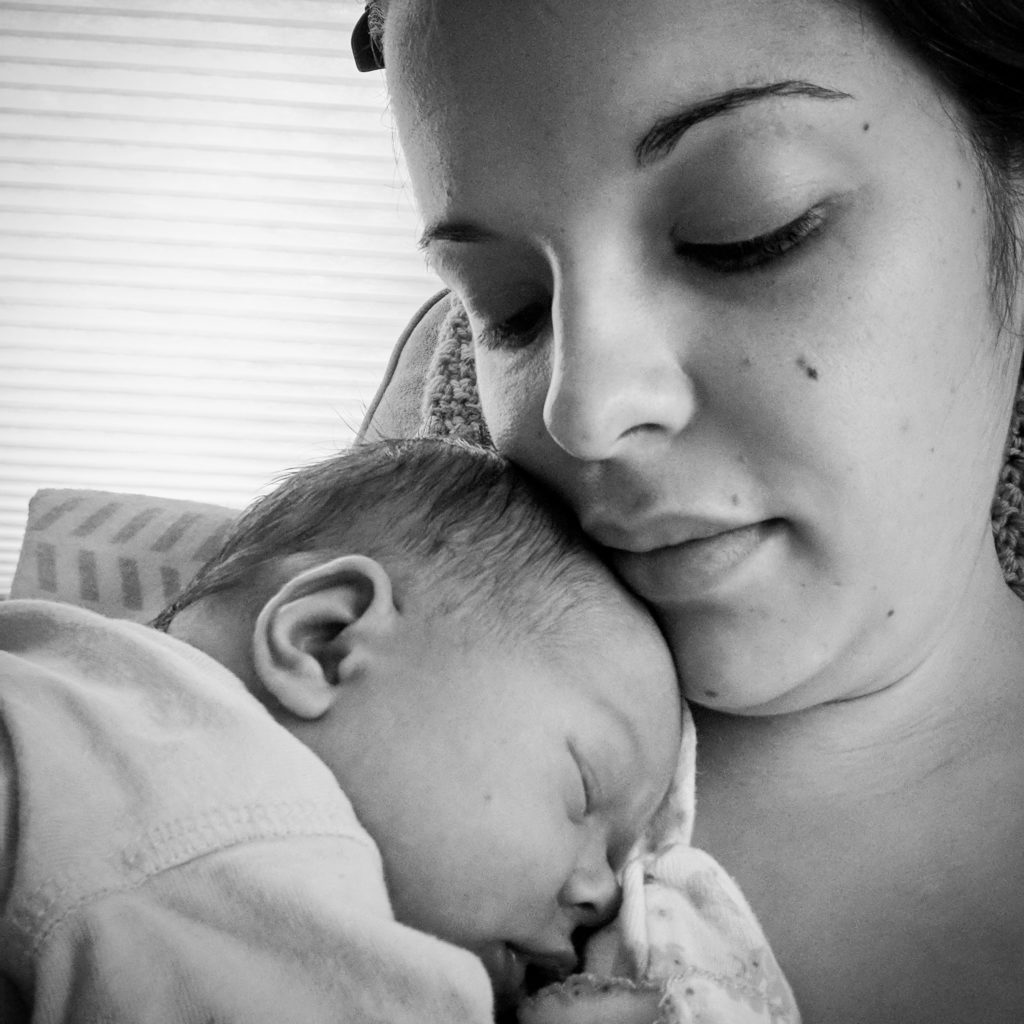 ———–
Click HERE to learn more about the Community Birth Stories Project or to submit your own birth story