As told by Lauren: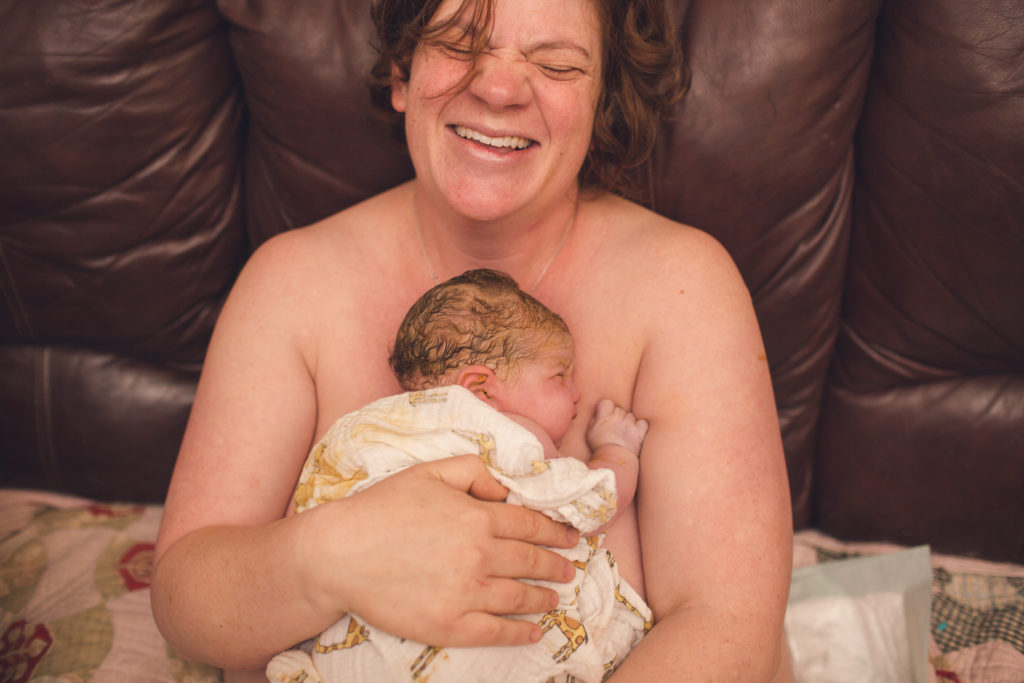 Liesel entered our awareness about two weeks after our second baby was born, in the fall of 2014. So we knew another soul would be joining our family in the future. We could hear her knock become stronger and stronger, and in the spring of 2017 my husband and I were both ready to add to our family, and in the summer of 2017 she was conceived.
The pregnancy was easy and enjoyable – I love being pregnant! At each prenatal appointment, Liesel would swim away from the doppler until asked if we could listen to her heartbeat. Then she would pause long enough to get a good reading and then move away. She was teaching us early about asking her for permission on things that affected her and this would be really important during her birth.
With both of my other pregnancies, I went well beyond 40 weeks – 41+6 with Emily and 43+6 with Winfield. I joked that I am a long gestater. However, as the time drew near for Liesel to join us, I felt like she might come sooner than the others. I was wrong. Because of my history of long pregnancies I worked longer this time around – until 39.5 weeks. With Emily I stopped around 37 weeks and with Winfield I stopped at 36 weeks.
Friends gathered and surrounded me with love at a lovely mother blessing to prepare for the birth and release fears. I prepped our birth room with fairy lights and affirmations and art and the whole family contributed to Liesel's table – full of special things. Around 39 weeks, Liesel's pattern was to wake up and be incredibly active from 11pm-2am – so I would wake up with her and work on positioning (since she was moving around so much) – so lots of hands and knees, sitting on the ball, and dancing – lots of dancing. Her playlist was ready to go. She liked lyrical, jazz, and pop music. This late night dance morphed into prodromal labor each night for several hours, the uterus was doing lots of things although no noticeable patterns emerged, much like jazz. I would eventually go to sleep and wake up a bit disappointed that labor hadn't begun.
The birth itself is best told by the time stamps of text messages and phone calls to the birth team.  I should mention that my birth with Emily spanned 2 days and was over 40 hours and Winfield's was about 20 hours.
In the early hours of May 4th, I had Aaron feel Liesel's nighttime movements and I told him, "I feel like she is going to bend her knees and shoot out of me like a rocket." And that is pretty much what happened later that day…
On the morning of Thursday May 4th, I woke up early, disappointed that I wasn't in labor yet and read three birth stories of friends birthing their 3rd babies. Two of the three stories involved pretty quick births and those two birthing mamas were part of the birth team – this was preparing me for later in the day.  At 12:47pm, I was texting with my friend and birth photographer, Lindsey. She was going to be out of town the coming weekend and she sure hoped Liesel wanted her at the birth. I told Lindsey that there was "definite uterus activity each day and night, but no patterns yet."
A short time later, around 2pm, I told Aaron that there might be a pattern emerging, and I was going to start timing what was happening. At 2:30pm, I told him the uterus was warming up with small contractions every 2 minutes. He gave me a look, but I said they were no more than 30 seconds long and I could walk, talk, and do life so no big deal. Just the warm up. I called my midwife and spoke with friend and midwife assistant, Shawna, and just told her the warm up was beginning.
We decided to go for a ride to get a part for the birth pool and so that our two older kiddos could nap in the car. The 2 minute pattern continued and I decided to give the rest of the birth team a heads up that the warm up had begun.
So at 3:15pm I texted that I was having easy regular contractions every 2-3 minutes, 30 seconds long, easy to talk and breathe through, no bloody show and that I would keep everyone updated as things progressed. I spoke with my friend and midwife Nannette as well, who was just leaving a birth.
We got home around 4pm and I went inside while Aaron stayed in the car with the napping kiddos and to take a short nap before getting the birth pool ready. My mother-in- law helped me get the bed ready with plastic and sheets on top and we got the pans out to boil water to warm the birth pool. I made a snack (cinnamon toast and honey roasted peanut butter –  yum!), texted a few friends letting them know that I "thought" I was in early labor and that I was going to take a nap, but not to worry if they didn't hear from me for a while, after all my other labors were 40 hours and 20 hours. My friend Tania pointed out that if it was the 4th or 5th of May, she would have a fun birthday :)
At 5:20 or so I woke up from my nap and when I stood up it felt like I most likely had some bloody show – woohoo! I needed to go to the bathroom and sure enough there was a little blood. I also had to poop. It was a messy poop and then the contractions started coming quicker and I needed to breathe through them a bit more. As I was sitting on the toilet I texted Aaron something like, "I hope the birth pool is set up and you aren't still asleep." I didn't get a response or see that he read the message, so I called him and a very sleepy sounding husband answered the phone. I said he needed to set up the pool and he sprung into action.
I kept trying to wipe my butt clean in between contractions but I never had enough time, so I would wipe wipe and then sit for a contraction, and wipe wipe, sit for a contraction. I eventually got it clean. I just remember thinking that I didn't want to birth the baby in that bathroom and I needed to get downstairs. I also remember thinking that if I get in the water, everything will slow down. By now the contractions were 1.5 minutes apart and lasting 45 seconds to a minute long. With my now super clean butt, I headed downstairs, Aaron takes one look at me and says "is anyone on their way?" I say "I don't know, just light the candle." (the candle was from my blessing way and meant to be lit during labor).
I head over the couch, knees on a pillow leaning on the seat and begin to call nannette and text the rest of the birth team in between contractions, as Aaron is trying to get the birth pool ready..
This was all around 5:45pm – I spoke with Nannette who heard me breath through two contractions and she said she was on her way and would be here within the hour. My text to Lindsey and Andrea (friend and doula) at this point said, "Contractions much more intense, a little blood, 1.5/2 min apart, and 45 sec to 1 min long or so. no vocalizing yet." So I still wasn't actually telling people that they should come. A few contractions later, I then added to Andrea "Can you come?" and to Lindsey "I'm so hot." So they were on their way.
The contractions had picked up and were more intense and I needed some counter pressure. So, Aaron, in between caring for Winfield (who had woken up, Emily was still asleep) and setting up the birth pool would come over and press on my back. He had a minute of helping me and then a minute to do other things. His mom had to help through one contraction as well (thanks Sharon!) as he was busy doing things. Eventually he had to give up on the birth pool (he forgot to put the liner in and so was emptying the water already in the pool and was about to start again) and just stay with me because things were happening fast. I started vocalizing, loudly. And then things were just happening. I felt something come out and I said "something is happening" and it was my water bag coming out and bursting. I switched positions and was leaning on the birth ball at this point with Aaron behind me on the couch. He could actually feel where Liesel was moving down to, so could really help me direct my energy to the specific place in my body as she moved through. It was crazy and fast and then I was pushing with no way not to push.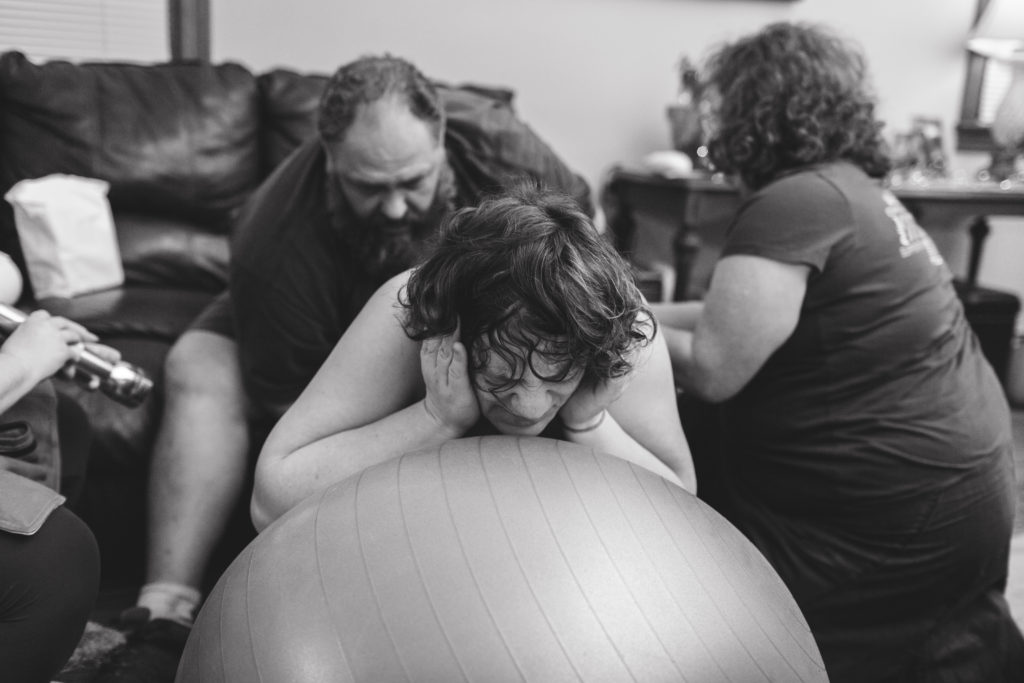 Aaron didn't have gloves or pads down or water or oil or a trash can or anything (and apparently there was lots and lots of poop (sorry babe!). I was aware that I was birthing this baby and wondered how my perineum would do without oil or a warm cloth. At 6:45pm, Lindsey arrived. Her presence was wonderful as she let us know she was there, holding space as Aaron continued to guide my energy and I let go into the beautiful chaos of this birth. I was pushing, Liesel was coming. About 5 minutes later, Nannette and Grace arrived to find Aaron touching and holding the head of Liesel as she was crowning. Her head was out, he switched places with Nannette as she instructed me to another position to help Liesel maneuver her shoulders out. Shoulder dystocia is rare, but not necessarily a surprise in precipitous births. Nannette calmly did her thing and with two hands inside my vagina working the shoulders, she asked Liesel to move her shoulder in order to come out. I heard her ask and knew in that moment that all of the prenatal visits (every single one of them) where Liesel would only let Nannette hear her heartbeat after being asked had led to that moment in the birth. And sure enough, with the asking, permission was granted, she moved her shoulder and out came my beautiful flower, Liesel Florette.
She was here! In 1 hour and 20 minutes my baby was here! It was insane and wonderful and hilarious and crazy and adrenaline filled. It was letting go and not thinking and being wildly grounded in the sacred journey of birth.
Her cord was crazy short or tightly wound (I didn't see it) and so she could only be on my lower belly. I looked around and saw Andrea (hi! – I had a baby) and the team and my son and older daughter and husband – who said "that was easy" to which I laughed and said "so easy".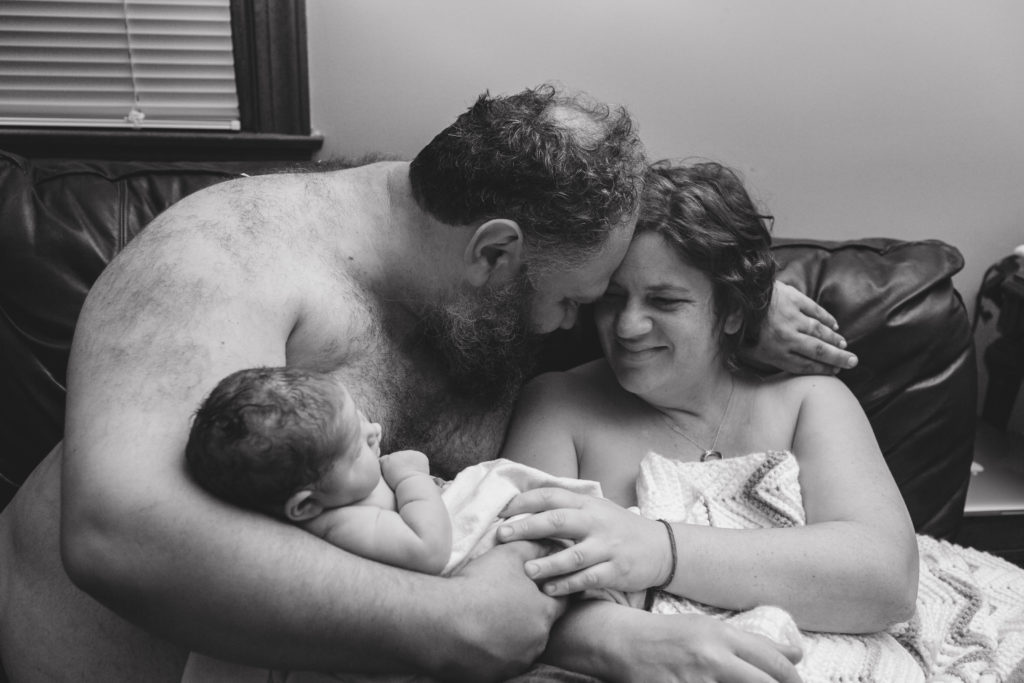 Liesel Florette, 11 pounds 4 ounces and 23 inches long. So glad she arrived safely, and so thankful for the perfect timing of the birth team and the amazing birthing skills of my husband. Thank you Aaron, Sharon, Emily, Winfield, Nannette, Grace, Shawna, Andrea, Lindsey and, of course, Liesel.  What a crazy ride!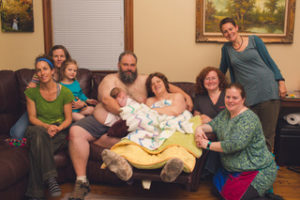 Birth photos credit: Lindsey Welch Photography
Read the birth story of Liesel's big sister Emily
Read the birth story of Liesel's big brother Winfield
———–
Click HERE to learn more about the Community Birth Stories Project or to submit your own birth story