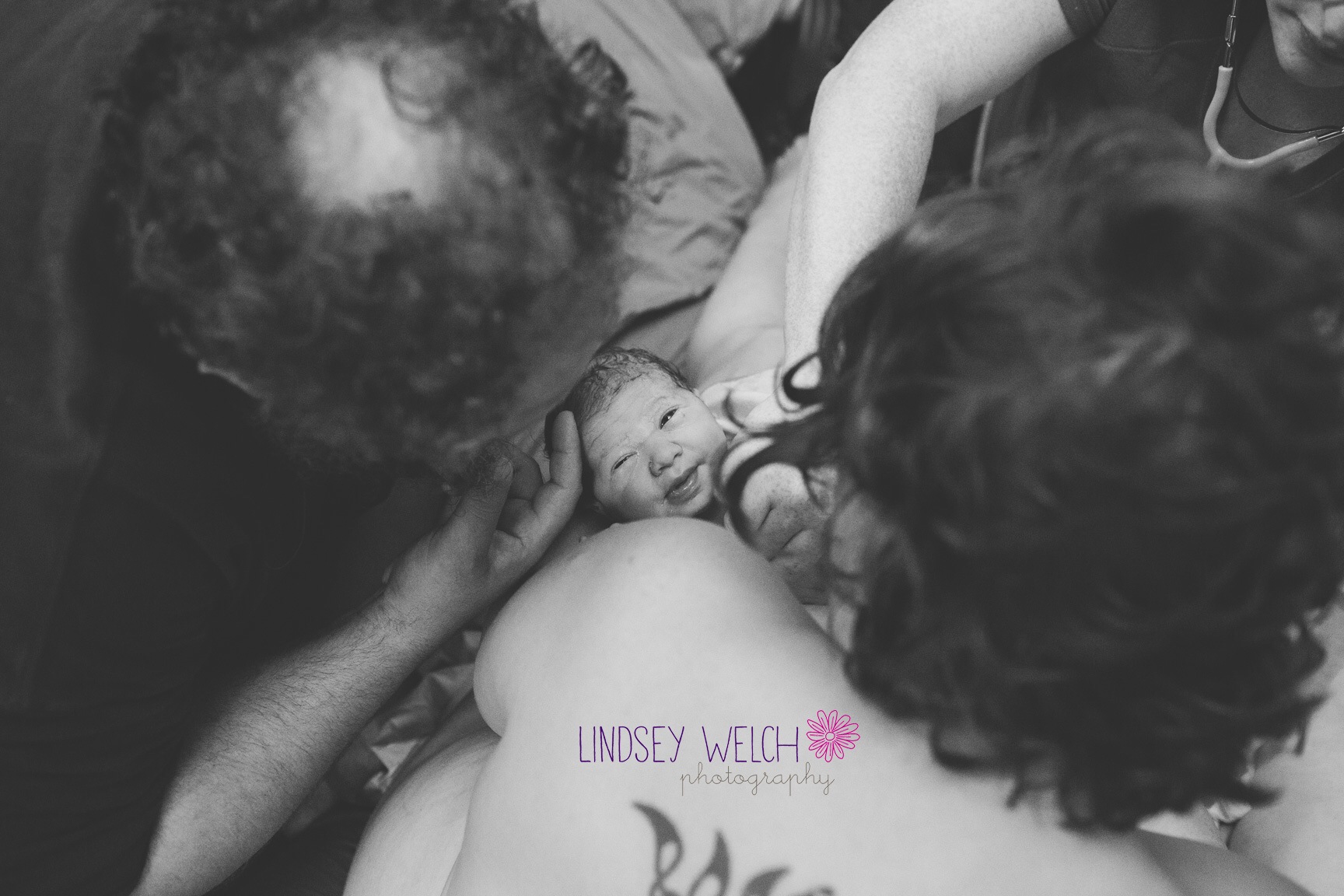 Waiting for Winfield
As told by Lauren:
In mid December 2013, much to our surprise, we found out we were pregnant with babe #2. We had no clue of the conception date so had a dating ultrasound done a few weeks later which suggested we were about 11 weeks along with a due date of July 31, 2014. Our 20 week anatomy scan had a due date of August 1, 2014, so we felt fairly comfortable that these dates were potentially accurate within the 5 week window that an estimated due date gives you (37-42 weeks).
I have to admit this pregnancy wasn't easy. I was in pain every day. I had intense sciatic pain on my right side early on in the pregnancy. I saw a chiropractor with no relief. In February it switched to the left side, and I had this pain daily. It was significant, and became more so in late April/early May. I would almost say debilitating pain. I cried every morning in the shower and had a routine of hot shower, cold compress, kneel on the birth ball for 20 minutes before I could even function. With trying to catch a train at 5:50am, adding in this 30-40 minute routine was draining, so was the pain. On non-work days, I couldn't pick my toddler up in the mornings until after the ice part of the routine, which she would assist with. My personal practice of conscious dance and movement was something I couldn't do with ease. My love of babywearing my toddler strangely provided just the right amount of pressure to make me able to wear her, but this too wasn't easy. It was a very very difficult time, there were lots of tears and fear, specifically fear about what this might mean for my labor. I cried at work daily too. I started looking for relief through a variety of modalities – chiropractor, acupuncture, cranial sacral, massage, other body work that was stretching/pressure points, essential oils, and emotional processing.
The commute to work was taking its toll on my ability to function as well. I reached a point when I couldn't actually lean back in the seat at all because of the pain. With being 7 months pregnant and unable to sit comfortably for the hour commute, this was a problem. I was a mess. Fortunately my work provided a medical telework option for me, which allowed me to work from home almost exclusively until I went on maternity leave. This allowed me to schedule my pain management appointments with more flexibility and while the pain didn't go away during this time, taking out the strain of the commute did help. But standing and/or sitting to work 8 hours a day was still very uncomfortable. Walking and movement seemed to help the most at times, and so I decided to go on maternity leave a few weeks early.
By our ultrasound calculations, I was 36 weeks pregnant when I went on maternity leave. I had 4 weeks of being off before Emily arrived and knew I wanted time to prepare for this birth in the same way. Aaron was traveling for two weeks and so I took the opportunity to have some friends and family come and help me clean/organize and nest a bit while he was away. The lazy days of naps and toddler playing provided the relief my body needed and the change in babe's position helped too, such that in my 8th month, the sciatic pain was no longer debilitating, there were no more tears or even the routine to function. I actually was ENJOYING this pregnancy and was so so thrilled to feel different about it.
Several folks who seemed to have an intuitive vibe about them sensed that this baby was going to come early, either before or right at 40 weeks. Emily was born at 41 weeks 6 days, so to have a few people sense he might come early was interesting. My sense was that he was going to come super fast and this scared me. Emily was a 40+ hour labor, so thinking that a baby could come in less than 3 hours seemed super crazy to me, but every single birth story I heard was about these crazy fast births. Some of which the midwife arrived after the baby. I realized I needed to let go of my fear around a fast birth and embrace it. I share all this to say that I was preparing for a fast labor that would occur prior to 40 weeks.
Aaron got back from his trip while I was 38.5 weeks pregnant. The whole birth team was ready for our call. Babe was low low low in the pelvis, and I was waking up to a strong beat of a song every day. We were all ready. I had some major, what I like to call energetic contractions, where I would feel all of this energy come over me that I was really hard to handle, it would make me jittery and restless. We were ready… Every day I was prepared for labor to start at any minute.
Weeks 39 and 40 – things felt very close to starting.
Weeks 41 and 42 – things felt far away.
We are talking over five weeks of thinking today is the day! We were waiting on Winfield, some days more patiently than others for sure. There were lots of tears, loads of walks at all hours, tons of dances. Two full moons!!! I came to the conclusion I just must gestate a long time.
Week 43 Braxton Hicks contractions started each evening and people who knew about our initial estimated due date of 7/31 – well they were getting a bit nervous for us. I definitely had to let go of some fear as the pregnancy continued. I knew the statistics on still birth after 42 weeks gestation (still low risk but it increases with gestation time) and I was fearful, but I also trusted body wisdom more than fear. My midwife made me voice my fears out loud instead of holding them in, which was powerful. However, the waiting was honestly pushing my limits of trusting, which admitting is both honest and humbling. We got a late stage ultrasound just to check the placenta and fluid and make sure everything was okay, which it was. While I hated to admit it, I needed the reassurance and knowing that all was well gave me the confidence to continue waiting on Winfield. Each day was a battle between trust and fear. Trust won and I felt confident and sure in our decisions on waiting.
We did develop a plan with our midwife on possible interventions to consider. We were now seeing her twice a week to check the heartbeat and heartbeat accelerations (which checks in on how the placenta is doing). I saw her Tuesday morning and we discussed that if Winfield hadn't come by Thursday, we would do a cervical check and possible sweeping of the membranes. If he hadn't come by the weekend, we would then consider castor oil. That afternoon I scheduled an acupuncture appointment as well.
The acupuncture appointment was set for 4:45pm. I saw our midwife at noon. I got home and was napping with Emily and around 2:30pm very mild contractions began. This continued for the better part of an hour before I texted Aaron and told him what was happening. I didn't want to jinx it. I little bit later I called and cancelled the acupuncture appointment – it wasn't needed. This baby made it clear he was not interested in any interventions. I told Aaron to get the birth pool ready and I alerted our birth team. Our doula, Shawna, was at another birth, and our midwife assistant, Amy, was out of town. The back-up for both of them, Andrea was available (and I had wanted her at the birth even if both Shawna and Amy were in town) so all was well. Our midwife, Nannette, was also available as was our birth photographer, Lindsey, and everyone was excited! Finally!!!
I labored alone to Winfield's playlist into the late afternoon and early evening. It had some serious strong beats to keep me moving and grooving. Some friends stopped by and chatted with Aaron as he was getting the pool set up. The contractions were still mild but regular, fluctuating between 4 and 7 minutes apart. I was able to breath through them and still hadn't had any bloody show at all. Earlier Andrea had texted to let me know she was home and just hanging out and to let her know when to come. I didn't want her to come too early, but I knew I would appreciate the support and her company, so I told her that and she came over around 7:30 or so. Lindsey had a birth education class that evening that was over at 9pm and I told her to go ahead and teach it, as it seemed she would have time to come after. Nannette was able to do dinner and bedtime with her family before heading over as well. The contractions were getting longer and a bit closer, but they were manageable.
Andrea asked if I wanted to labor in the pool and I did, so I got in there and it was divine. I so wish I had labored in water with Emily's birth. The contractions were still regular and I loved being in the water. Emily got in the pool with me and would pour water on my back during contractions – she is an amazing child and I love the fact that she was so much a part of the birth process of her brother.
The toilet was my safe place. It was where I would go during labor when the contractions would slow way down. At some point during one of my breaks to rest, I was sitting on the toilet and Andrea was stroking my hair or back or something that felt lovely and Winfield came to me. He was an older child with blondish curls standing before me. I had read not too many days earlier that sometimes during labor, the mama would have visions and/or visits of the child coming forth and it was amazing to see him and know he was on his way. I was in such a deep place, a deep trance of breath and body and spirit. It was truly amazing.
Even with everything going on, Emily got to sleep and slept through the night with grandma.
I got back in the water and then Nannette and Lindsey both arrived, sometime after 10pm I think. I had long since stopped tracking the timing of the contractions or their frequency. I was aware that I still hadn't had any bloody show though. Around midnight or after or sometime Shawna arrived. It was so great to see her and have her be a part of the birth journey. I was thankful the timing worked that she could join us.
As I got out of the pool to labor elsewhere, there was suddenly a lot of bloody show. I was very excited because I knew this meant things were happening and moving and shifting. I labored on the back porch some and then was encouraged to do the stairs, twice, so up and down and up and down I went. I had told myself that I was going to do whatever my doulas suggested because doulas are awesome and know their stuff. I didn't even complain, that I remember :)
I labored on the toilet some more, in bed some to get some rest in between contractions, and also back in the pool. I'm not certain of the time, but at some point Nannette asked if she could check the position of Winfield's head. I was aware that my labor was slow and peaceful. The contractions were not gaining in speed or frequency it seemed, although they remained regular and intense. I utilized my hypnobirthing breathing as well as some low tones and was able to go deep inside with each contraction. I agreed to a cervical check at this point so up the stairs we went. I was dilated to an 8 and Winfield's head was slightly off center, so Nannette asked Shawna and Andrea to to the side lying release with me, 3 contractions on one side, then for me to get on all fours and then 3 contractions on the other side. We did this for what seemed like hours. I slept in between contractions. Aaron napped on the porch while we had a lovely slumber party upstairs.
As dawn came, she checked his position again. I was fully dilated and he was in good position. At this point my contractions were still not gaining in frequency or length. Aaron and I had some time upstairs where I napped between contractions and Nannette was able to see her kiddos and go for a walk with them and Lindsey was able to go home and see her oldest off to his first day of school. As I woke up with Aaron, I wanted to do the stairs again and he let me know where everyone was. We headed back downstairs and into the water again (because laboring in water is awesome). Nannette and Lindsey both got back soon after. I was in transition, shaking from the sacred tremors. This transition was quite long, about 3 hours. The contractions remained far apart and intense, but things didn't seems to speeding up like I had happen with Emily or had read about in so many other births. During the time the option of having my waters broken was discussed. I was losing steam and hadn't eaten anything in a while, mostly because every time I ate something I then had to poop and pooping while in labor isn't much fun. So I just stopped eating much food because I was annoyed at the pooping. Part of me thought that having my waters broken might not be a bad thing, it would more than likely speed things along. However, when I went inside and sought an answer, I knew that this was Winfield's journey and I didn't want to take an experience away from him. It wasn't what he wanted.
In between contractions Lindsey asked if there was anything I was afraid of, that might be stalling labor. I had an image come up from Emily's birth, holding on to Aaron for dear life as I was completely overwhelmed from the contractions and the feeling of needing to throw up but not wanting to throw up and just utter and complete chaos without being grounded. This labor was so different and this transition was so different and yet I was afraid that I was headed to that place again and I was scared. We talked about this and about that if I felt the urge to throw up to allow my body to go with that urge, to even move as if I were going to throw up and that this would help.
Aaron and I talked about the breaking the waters option and I shared where I was, part of me wanted it because I was tired but I knew that I needed to continue to trust the body wisdom and I knew it wasn't what Winfield wanted. I decided to give it an hour and reevaluate. I agreed to eat something, took a whiff of peppermint oil and Aaron and I headed upstairs to rest some more. I was lying down with him and the very next contraction there was a pop and water. We all shouted "Water, Water!" It was all very exciting. The next contraction was intense and I felt the urge to push, baby was bearing down and on his way. I also felt the urge to vomit, so I went with that body urge and sure enough, vomit! A very talented Lindsey caught the vomit in a drinking glass as she was taking pictures. No joke – she is amazing!
Throughout the labor Shawna had been saying "Lauren, isn't birth beautiful, isn't this process amazing." I was always like yes, sure, yes. After my water breaking and vomit and who knows what else, I looked at Shawna and said, "Shawna, isn't birth beautiful?" We all were cracking up just as Winfield was on his way. 30 minutes and 6 pushes later, he was earthside. Feeling the urge to push was remarkable. Feeling his head was remarkable. Having the opportunity to look at him face to face before bringing him to my chest was remarkable. The entire labor was so lovely and peaceful and beautiful. My contractions never were on top of each other, they came in slow and easy intervals that allowed me to go deep with each one and not be overwhelmed with them. For that, I am incredibly thankful.
As Winfield entered he took in a huge gulp of mucous into his airway, so he had to be suctioned quite a bit to get everything out of his lungs. He was also a meconium baby – both of my kids entered the world covered in meconium. While the team was working on getting Winfield's airway clear, I apparently hemorrhaged. So there was a bit of concern and attention then directed at me. I was given a shot of pitocin and proceeded to push the placenta out. Upon examining the placenta a huge chunk of it had decided to stay inside the uterus, so we were told what to look for related to possible infection but we were also hopeful the body would be able to get the rest of the placenta out over the next few days, without a trip to the hospital. (Fortunately, it did come out on its own, thank goodness.)
Winfield latched right away, eyes open checking us out and enjoying mama's boob.
Emily met her new brother with wide eyes and wonder and wanted the boob too. So my journey with tandem nursing began right away.
So while I was expecting a short intense birth prior to 40 weeks, Winfield was born after 22.5 hours of a peaceful labor at 43 weeks and 6 days. Trusting the body wisdom.
I'm sure I've left out something good, beautiful, important or got some of the details in the wrong order or mixed up. What I do know is that Winfield's birth was amazing. It was beautiful. I learned things in Emily's birth that I was able to use in his birth. In the places I needed healing, I was healed. Aaron, my love, was the best birth partner, and I had the most amazing birth team ever! seriously! The team came into our sacred space with a shared sacred presence and intention and trust in birth. I felt supported and loved and safe. I used the tools I've learned throughout life the last few years – breath, dance/movement, laughter, stillness. I looked inside for answers and sought support and guidance outside from the team. It was beautiful and our boy is amazing and beautiful and the sweetest of souls. I'm again so honored that these precious and amazing souls chose me to be their mama.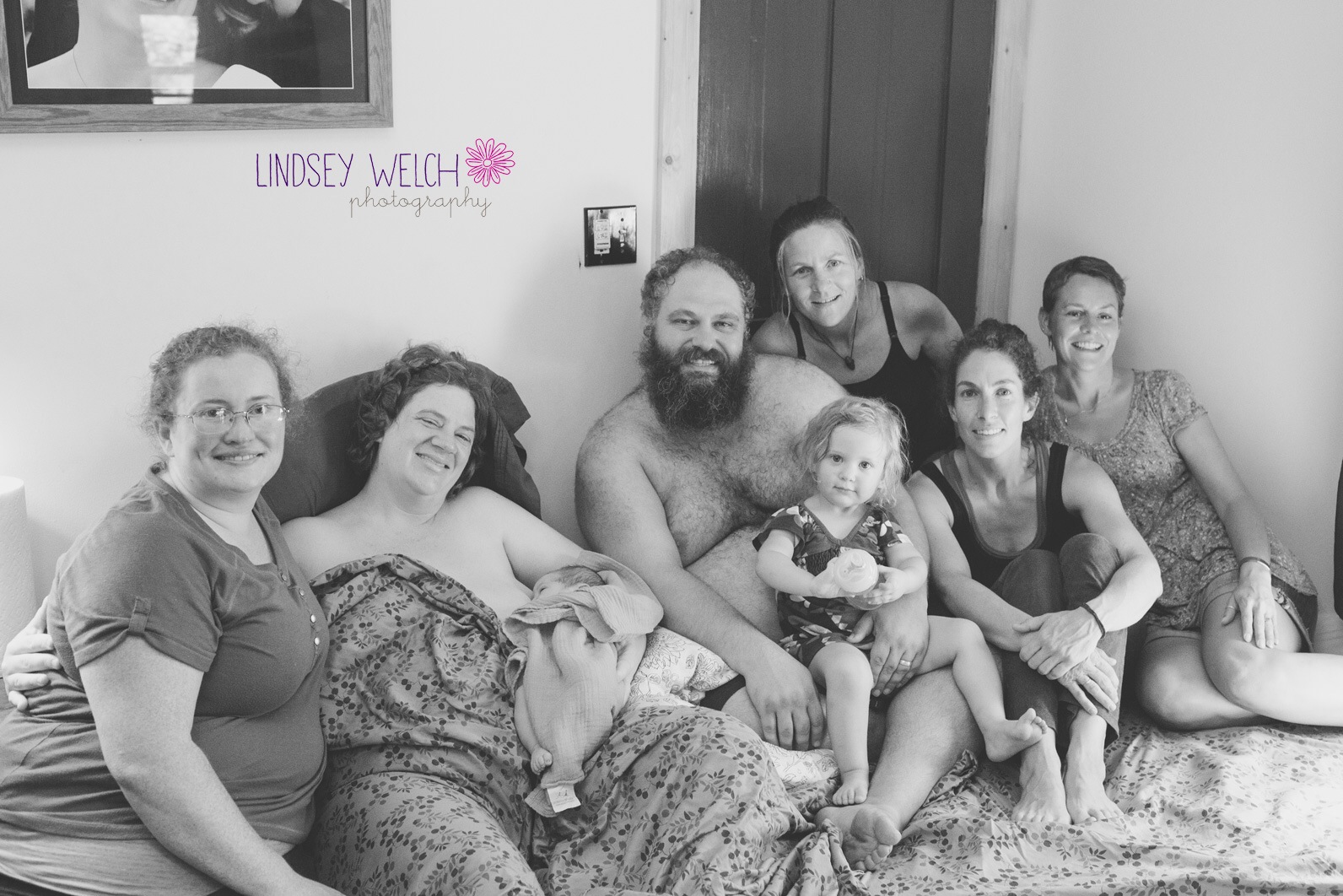 For more stunning photographs of Winfield's birth visit Lindsey Welch Photography's blog.
(Read the birth story of Winfield's big sister here)
———–
Click HERE to learn more about the Community Birth Stories Project or to submit your own birth story.