My business was my first baby. I own Anam Cara Apothecary with my mum and over the past 4 years, we cultivated a shop full of herbal remedies, workshops, and holistic treatments. Here I could exercise my creativity and create my own schedule. Some days, I'd lose sleep over work, but only because I was creating new recipes or displays to try out the next day. Being my own boss was the best and I never had a bad day at work. Our clientele was wonderful and took us years to build, and I'd be lying if I didn't say I was nervous about taking a huge step back as I stepped into the role of motherhood.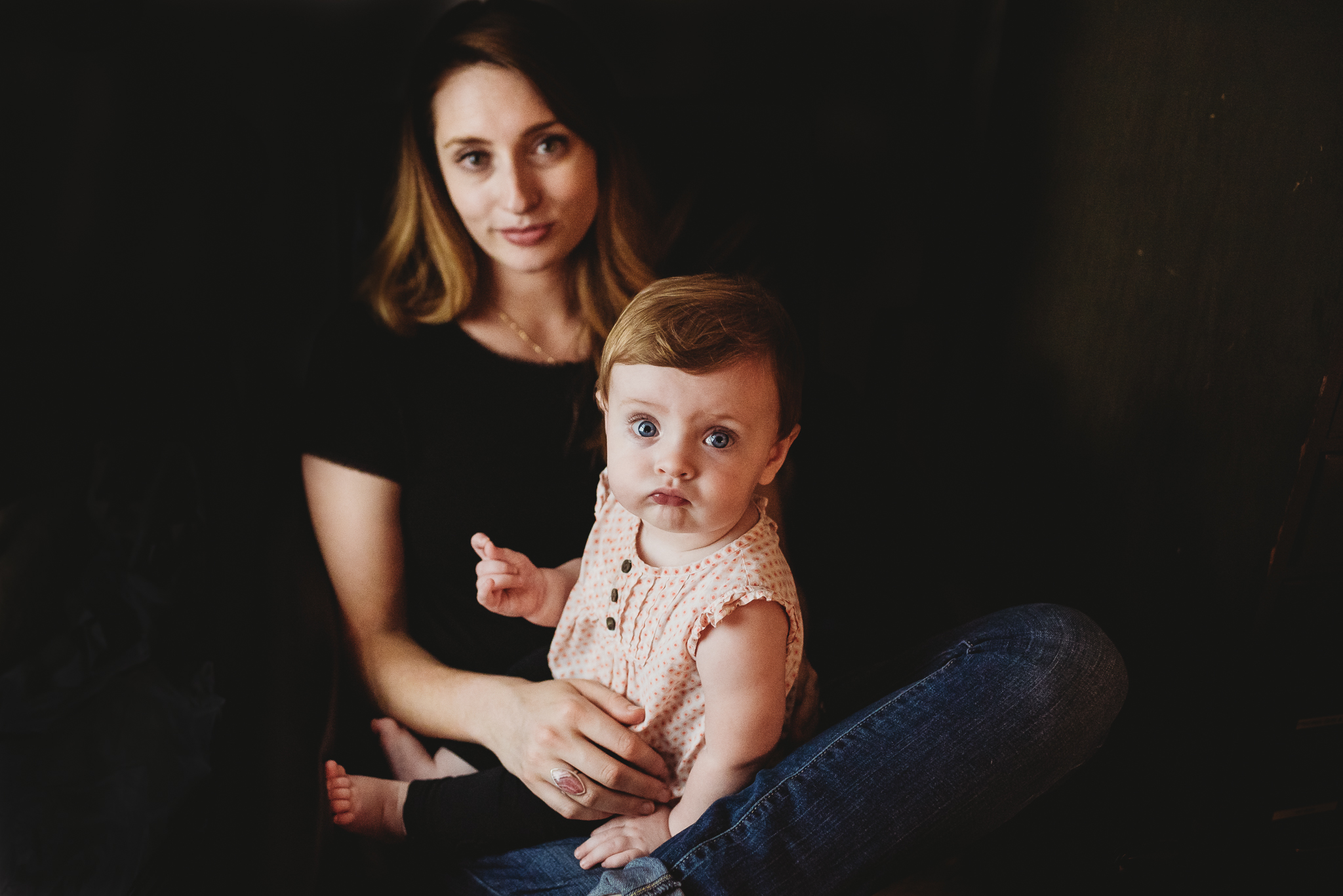 My daughter's due date was November 25th, Black Friday. The irony was not lost on me that I would be laboring and birthing on the busiest sales day of the year. I jokingly said that if she came early, I would just strap her on to me and work the register while sitting on a stool. How hard could it be?
I, of course, did not go to work that weekend or for several weeks after that. Jocelyn became the most important thing in my life, but my first baby – my shop – was never far from my mind. I soaked up the newborn days at home with Joss and my husband, but also felt pangs of guilt for not being at the shop during the holiday season. My mum assured me that even though she missed me, sales were great and the store was running smoothly with her and our employee. She was right, things were going great without me. I had the register app on my phone and could check in on our sales whenever I wanted. The shop thrived in my absence, which made me feel comforted yet confused as to what my new role was.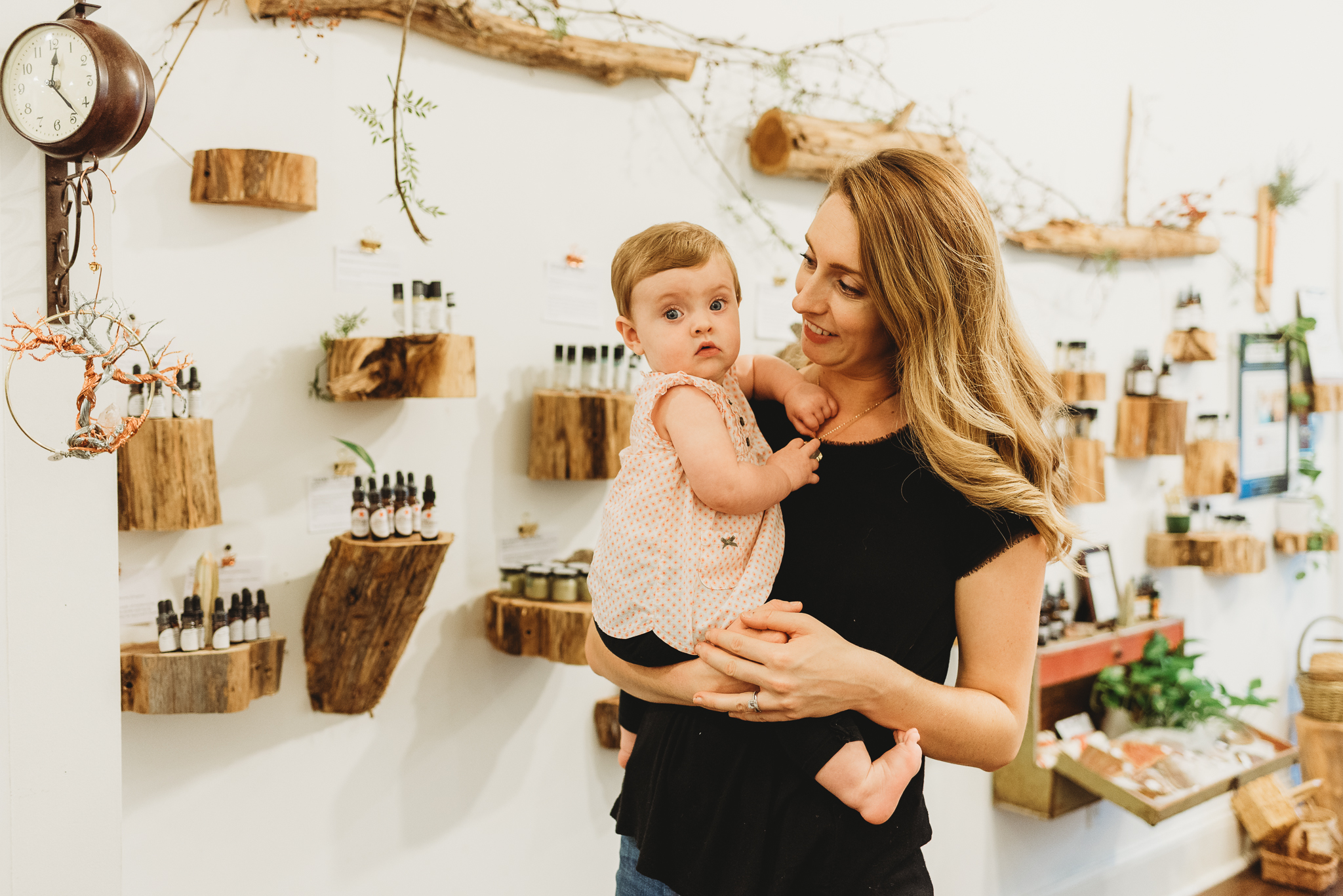 In the spring, I dealt with Postpartum Anxiety. The baby was going through the 4 month regression, I did not have many local friends who also had kids, I longed to be of use again besides changing diapers, and I wanted some autonomy from the baby. My feelings snowballed into a lot of frustration, especially when I went to the shop. No matter how much I wanted to do just one more thing while I was there, I would end up leaving halfway through bottle inventory because the baby was fussing and refused to nap outside of the house. My shop was once my place of serenity, and now it gave me anxiety because I never knew how long I had until the baby had a meltdown.
With the wise counsel of my husband, mum and sister, I overcame PPA by lowering my expectations in just about every department of my life. I wanted to enjoy Jocelyn's babyhood, not resent it. My change of outlook has made all the difference, even though I still wrestle with it weekly. If a work related task gets interrupted now, I ask for help to complete my project, or put it off for another day.
Motherhood has taught me patience, to handle situations with grace, and to get creative when attempting to complete my goals for the day. I have nursed the baby on the couch while posting about our arthritis cream on Instagram. I have curated upcoming events and sent out emails while the baby is taking a nap. I distract Jocelyn with blocks while ordering more shopping bags. Even during writing this, I've taken breaks to soothe my teething baby who no longer is entertained by her toy.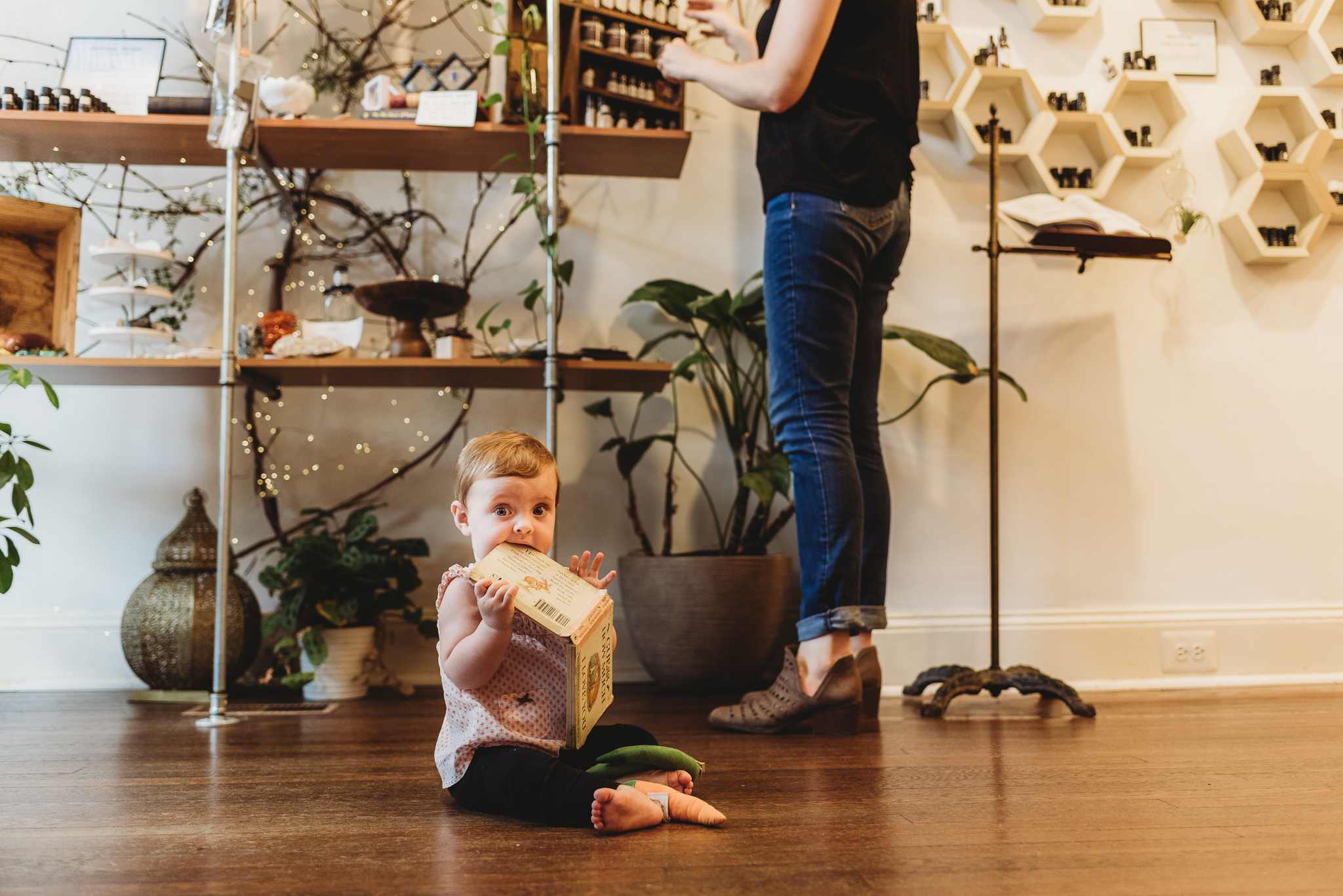 My daughter is now 8 months old. My role has changed at Anam since Jocelyn was born, and I'm no longer there every day that we're open or have the mental energy for all of the business tasks I once was in charge of. I hate this yet love the fact that I'm the one primarily raising our daughter. On the rare days I am at the shop without the baby, my husband asks if going to work is a break for me. "It is," I tell him. Going to the shop and interacting with our customers without interruption is a little vacation for me. And I'm that much happier to return home after having some time to be creative at the shop.
All of my work is done remotely from my computer when I'm home with the Jocelyn. I'm in charge of some of the less glamorous yet still important things such as inventory, ordering supplies, advertising, label design and website maintenance. When I go into the shop with the baby, she is always strapped in her carrier as I attempt to redesign a display or mix together oils. There are constant interruptions and half done projects. The simplest tasks take me so long now, and my mum and I find it very difficult to have a productive workday when Jocelyn is present. We are either trying to soothe her, feed her, or resist being distracted by her cuteness. Our customers love her, and she smiles at everyone she sees.
Being a small business owner and the mother of a baby has taught me to simplify and prioritize things. There isn't always time to do the grand product display you imagined, and sometimes you only get to check one or two things off of your to-do list that day.
Because of this new normal, I've learned to let go a lot. Let go of wearing a dress that aren't breastfeeding friendly, let go of being on time anywhere, and let go of how the shop runs or looks. I remind myself that this is just a season, and Jocelyn won't be a baby forever.
Motherhood is all about ebbing and flowing with this new state of normal. We're balancing the baby becoming part of our world, us becoming part of hers, and creating a new world that makes sense to everyone.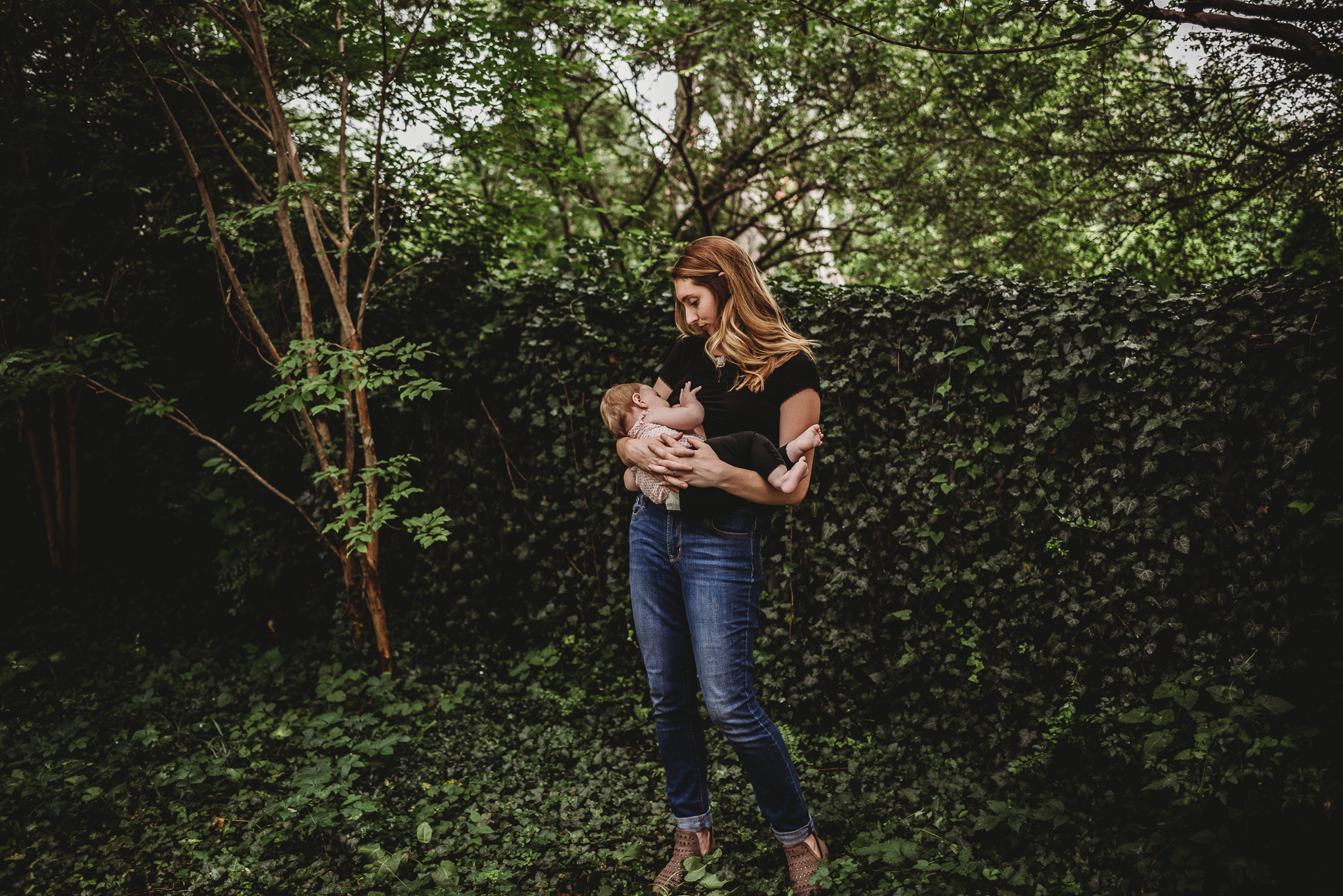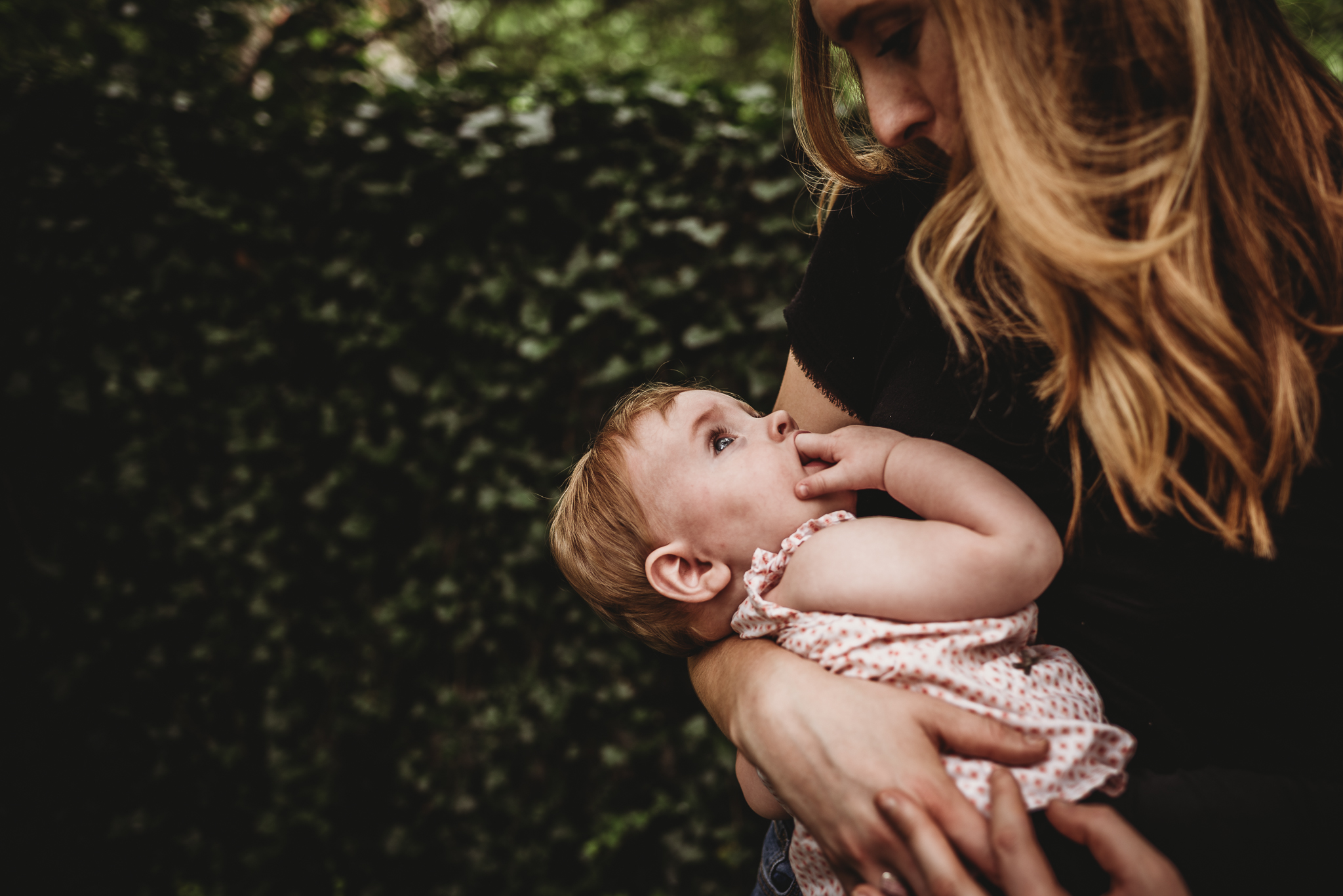 _ _ _ _ _
More about the LIFE AFTER BIRTH PROJECT

Images by Bergen Howlett | Photography for Two Rivers Childbirth