**Please note: We are not taking any new birth doula or postpartum doula clients for 2020**
We're so glad you found us. We're a small but mighty team of birthworkers guiding vibrant families during pregnancy, through childbirth and long into parenthood because birth is only the beginning, baby!
WE'RE HERE TO WALK THIS JOURNEY WITH YOU
Preparing for birth is a little like preparing to climb a mountain. As your doulas we're here to help you learn the terrain, plot your course, pack your bags with the knowledge and tools you'll need, navigate the boulders and walk beside you for every twist and turn in the path. We've been here before and we know these mountains.
WE ARE UNCONDITIONAL SUPPORT NO MATTER YOUR MOUNTAIN
EVERY BABY TAKES A VILLAGE -- SO WE BUILT ONE
Around here we like our coffee strong and our community stronger. The Two Rivers Village is built of thousands of local families and professionals so no parent feels like they have to do this alone. And you don't have to be a Two Rivers client to join, either, because we need each other now more than ever.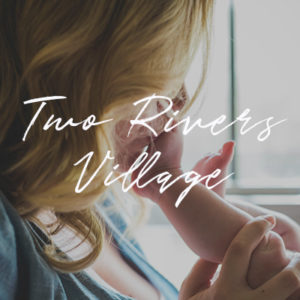 Two Rivers Village
Families need other families. Join our #VirtualVillage discussions on pregnancy and parenting, join a coffee play-date or a kid-friendly hike, ask for referrals before choosing a new doctor, celebrate a new arrival or check out local events perfect for families with young children.
YOUR STORY MATTERS
We believe that every parent, no matter how experienced or how fresh, has something to teach and something to learn. We take great pride in sharing the voices of The Village through our storytelling projects.