Jackson's Story: A Peaceful Homebirth in Water
Around 10am on the 14th of May, just four short days after moving into our first home, my water broke.  I was meeting our neighbor for the first time, and baby Jackson really wanted to make a lasting impression. I called my husband at work and told him that while my waters had broken, he should still go ahead and finish out the work day –I could labor on my own until 3pm. His boss told him "No way. Leave now." And so, he did. He got home around noon and drew me a lavender bath, where I relaxed while he set up the bed and birth pool. Contractions were getting stronger, but were easy enough that I could still talk and move about during one. I put on my Hypnobirthing CD and listened to my birthing affirmations, just reminding myself  to relax and have confidence in my body's and my baby's ability to birth peacefully.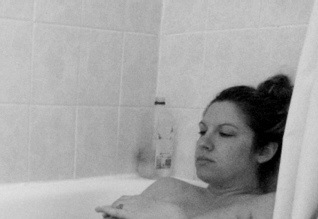 Our doula, Bergen arrived at 3pm. Contractions were much stronger now, and she gave me a hot stone massage while I watched Seinfeld, bounced on my birthing ball, and breathed calmly through the surges. (Thank GOD for doulas!!) Jon started to fill the birth pool, which was placed in the center of our sun room along with candles, a diffuser for my essential oils  and of course, music. My birth playlist was an eclectic mix of funky-folky-bluesy goodness including DMB, Jack White, Grace Potter, Eddie Vedder, Susan Tedeschi, and of course Led Zeppelin! The pool took longer than expected to fill, so I soaked in the bathtub upstairs and Jon poured lavender water on my belly during contractions.
At 5pm, our midwife Nannette arrived with her assistant, Grace. According to them, I was well into "labor land" at this point, roaming around the house in a peaceful, naked trance. I was really having to go inside myself now, humming through the surges and living for the little euphoric breaks in between.
Nannette checked me at 6pm, and I was at 7cm. Shortly after, another water bag broke, with a loud POP!  I could feel my body pushing the baby out on its own. It was like an involuntary reflex reaction, moving the baby down for me while I concentrated on breathing and letting my body open up.  I remember a swirl of gentle, comforting hands on me, massaging, applying cold cloths, and whispering "you're beautiful." Around 6:30, I hit transition. The contractions were right on top of one another and I was starting to get pretty exhausted so I decided I wanted to leave the tub and go upstairs to lie down in bed. My body continued pushing him out and at this point, Nannette whispered in my ear "Julie, do you want to do this here?" and I replied, "NO. I want to have him in the pool." We started heading back downstairs and I decided I needed to sit on the toilet for a contraction or two. Jon sat down in front of me and I wrapped my arms around him and grabbed on during the next contraction. I reached down and upon feeling his head, exclaimed "he's coming out!" So we hurried downstairs to the birth pool.

Two contractions later, his head was out. I remember putting my hands down there and thinking "holy SHIT. There's a head down here." Jon and Nannette both had their hands underwater, ready to catch him. Then at 7:14pm, to the soulful tunes of Jimmy Paige's guitar, Jackson Lee Miller made his earthside debut. I remember looking down at our little 9lb 12oz turkey and thinking "my GOD he is HUGE!" After I birthed the placenta, we made our way upstairs to bed and just reveled in newborn bliss while Nannette tended to me, and Grace to Jackson. Once we were all snuggled up and settled in, Grace went out to fetch us a deliciously sinful postpartum meal of greasy chicken tenders and a Georgia Mud Fudge blizzard from DQ. Jon had two hamburger meals. (Holy gluttony!!)
And then, we were alone. Our new little family of three, more in love than we'd ever thought possible. I can't imagine a more perfect birth day for our little dude, and I am so incredibly thankful for our "birth angels" at Riverside Midwifery and Two Rivers Childbirth. And of course, my amazing husband, who has really gotten this "daddy" business down pat.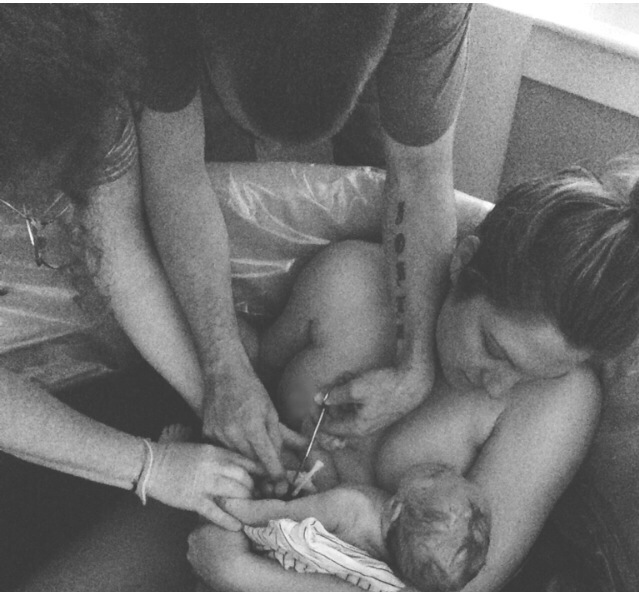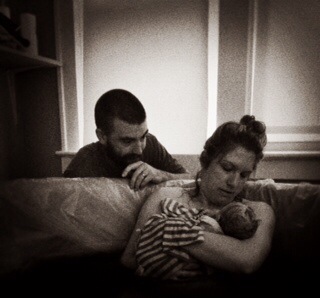 ———–
Click HERE to learn more about the Community Birth Stories Project or to submit your own birth story.