Aryadne's Accidentally Unassisted Home Birth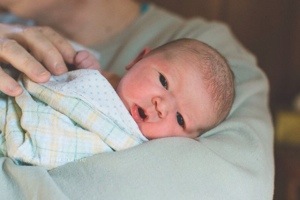 As told by Julia:
I must start by saying that Ian and I dreamed of a natural, home birth. I was terrified of the prospect that it could possibly be unassisted, meaning no midwife or doctor present. Although I didn't think it could possibly happen to me because I had previously had a long labor, I read up on accidental unassisted birth stories so I would know what to AVOID. I really, really didn't want an unassisted birth, but that is the beautiful and perfect way my daughter entered the world.
I had been very ill the prior weekend and was grateful to have had a couple of health and good sleep before labor began. When we woke up at 7:00 a.m. on Friday, I began having light cramping that had a beginning, peak, and end, and occurred at intervals. I was excited to think that my body was practicing but didn't think much of it and was pretty sure it would go away. A few hours later, I took my two year old Leo downtown for toddler yoga and the whole time we were gone, felt nothing. When we returned home. the contractions returned the same as before, very mild. I could continue doing any activity through them. I was surprised that the two or three contractions I had while I napped with my son did wake me up. I told my husband what was going on when he got home from work and he, too, did not think it would amount to anything. I knew, though he did not, that my due date was two days away. While I was on the birth ball watching YouTube before bed, I decided to time two contractions just for fun. 55 seconds each and six minutes apart, but still very mild. I told my husband Ian that the true test would be if I slept through them or they stopped overnight and I assumed that they would.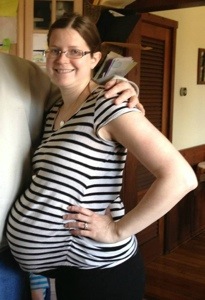 Contractions got more intense during the night and felt worse lying down, but I was absolutely determined to get any wink of sleep I possibly could. My son's labor was 60+ hours and ended with exhaustion and an epidural, and the first night of it I had spent awake because I was so excited. I knew from experience how much I needed sleep if I was indeed in early labor. The contractions woke me up and I knew I would be more comfortable in an up right position, but I did not let myself get out of bed except to pee. I was able to sleep between them and at some point in the night they slowed down so I at least felt like I got a few hours of sleep and was very grateful. I had to breathe through many contractions and visualize going over a wave as it got closer to morning. Then, I breastfed my son for what I knew would be the last time as my only nursling.
Contractions while we made breakfast required some of my attention, and I hurried Ian through making waffles so we could time some contractions and use that to decide if we should call anyone. Timing from 8:00- 8:30 a.m., they were one minute long and four minutes apart. I got Nannette the midwife on the phone, followed by my parents who would care for Leo, and Jen the doula to inform them but not to ask them to come yet. Nannette said the contractions were positioning baby and effacing my cervix and to call her when I felt like they switched jobs and I had to really turn inward.
Contractions became more intense and required more focus and physicality, so I think this may be where active labor definitely had begun. I rocked on the birth ball, leaned on the wall, vocalized using Mmmm and Ohhh, but was perfectly content in between waves. Ian did some cleaning and I wrote thank you notes to my birth team. Leo acknowledged my "hard work noises" each time I had to make sound, but told me not to do them on his learning tower or toddler bed. Sorry, buddy. The only time I cried the whole day is when Ian was showering and Leo told me during a contraction to "wake up," hit me on the head with a top, then tried to climb on my back. I knew I could not have Leo nearby without someone watching, but luckily my parents arrived around 11:00 a.m.
Soon after, I stopped talking in between contractions and required Ian for every contraction. I mostly clung to him with my arms over his shoulders, giving him my weight and going "ohh." He always said the most perfect, helpful things (he posted ideas around the house in case he ever came up short!) In between contractions, I lay on the couch. I figured that whenever a doula or midwife arrived, they would probably tell me to get upright and walk around, but right then I really wanted rest. It was a pain to get up off the couch for waves, so I eventually sat on the birth ball between them instead. My mom diffused wild orange essential oil, the only E.O. that got any use. I was good at staying hydrated (pat on the back.)
Ian was actually sick on the birth day and I couldn't bear to have him leave me, so I decided to ask Jen to come both to give him some relief and to help us decide if and when to call Nannette. After speaking with Jen, I peed and wiped away my mucus plug. I took this of a sign that I was dilated at least a couple of centimeters and had some renewed motivation. Contractions were getting harder, but I knew they were still not very intense. I tried to conserve my energy and barely spoke at all, and then, only a whisper. Ian started playing the labor music.
I started feeling rectal pressure during contractions and considered calling Nannette, but I wanted to wait and get Jen's opinion. Doulas are great at sensing what stage of labor you are in. I also was so hesitant to mention the rectal pressure because I did not think I was far enough in labor to truly feel that. Jen arrived and did her amazing doula thing, also being there for me physically and saying the best things. Rather than Ian get a break, he did some birth related tasks. Plus, I was my most comfortable when one was rubbing my back while I was draped over the other.
I started feeling stronger rectal pressure and vaginal pressure during but not between contractions and told Jen. When I went to pee, there was a fair amount of bright red, fresh blood. I informed Jen of the blood and that I wanted to call Nannette, who agreed to come right over. The next few contractions, the rectal and vaginal pressure got stronger and remained in between contractions, which seemed to get much much closer together. I told Jen that I felt like I needed to poop, but I knew from reading so many birth stories that I really didn't have to poop. We went to the bathroom anyway, thinking I would labor on the toilet. I also felt a little gushing and it was not blood so I thought it might be amniotic fluid.
My body started to spontaneously bear down. I won't bother trying to describe the sensation except to say I had no control and it completely took over. It made me stand up very tall. There was a big splatter of water on the ground of my membranes rupturing. I told Jen that I was afraid of my body pushing in case I was not dilated enough. Ian called Nannette, who was fifteen minutes away, as he started filling the birth pool (oh yeah, we had planned on a water birth).
Jen, the most amazing calming presence, taught me to do horse lips to prevent pushing and we did them together each time. They felt great for me, but did not stop my body from bearing down on its own. She had us leave the bathroom and go to the birth room. At the time she said it was because the bathroom was so small, but later admitted she didn't want the baby to drop in the toilet!
I stood by the bed and horse-lipped as my body did its powerful bearing down. It felt like this huge volcanic pressure with little break in between. After a few, I began to feel her body moving. I reached down and felt the top of her head, then felt her whole body suck back up inside me, so I assumed it would be this pushing-retracting thing for a while before Nannette arrived. Contrarily, on the next push, she was crowning. My body did little pushes to gently get her head all the way out and I held the head in my hands. I remember Jen telling Ian he needed to leave the birth pool (which had maybe two inches of water) and come catch his baby.
This at least felt like the longest break in between pushing contractions. Jen said that my baby would be here and I smiled in elation. I felt very calm and confident. Ian was under me on the ground as I stood above him, describing her face to us. I decided to push her body out, the only push that I consciously and willingly took part in, so at the slightest hint of the next contraction, I made an effort and her whole body slid out into Ian's arms. Jen helped me turn over and I saw my baby.
Her face was wet but she spit out water and was breathing and crying seconds later. Jen helped me sit on the bed and I asked for a towel for Ary. Her cord was draped over her neck but not looped around. She was crying and wailing and rooting but too upset to be able to latch. Nannette arrived maybe ten minutes after Ary's birth. After that my mom came in, and later, our photographer, who we intended to get here before the midwife but timing was not in our favor. The look on those three faces, who didn't know they would come to find a baby, was joyfully funny and unforgettable.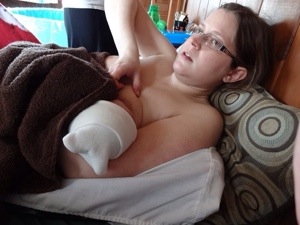 Aryadne Clover and I were perfectly healthy and doing great. She was born 31 hours after my first contraction and an hour after our doula arrived, 7 lbs, 7 oz, 21.5 inches long. I did require pitocin for bleeding after the placenta was birthed and had a very small first degree tear. The placenta had a lobe, which may explain the bleeding during labor. She was so happy to be breastfed and was very alert. I had a post-birth high and felt better than ever before. I experienced no ring of fire or any pain at all with Ary's crowning and emerging. There are a few factors, including my amazing support team who kept me present and grounded, that I never truly needed to enter 'my own world,' or maybe the midwife would have been called sooner. I feel no need to question or doubt her arrival and feel completely fortunate for and proud of this healing final birth.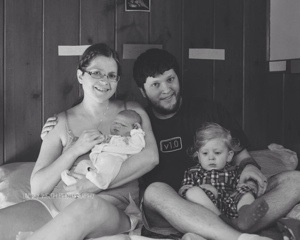 I love my midwife and photographer, but I have to give extra praise to my doula, Jen. She remained so calm and direct when any one of us could have been panicking. She gently but efficiently gave us direction when needed and allowed Ian and I to handle this "emergency" delivery with only minimal but needed guidance. For her doula tasks, she was incomparable, but she went above and beyond assisting in Ary's arrival with no medical personnel present. And another quick shout out to Ian for unexpectedly catching his daughter as she fell to this world.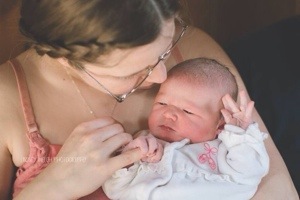 (Photo credits to Lindsey Welch Photography and the Becker Family)
(Read Ary's big brother's birth story here)
———–
Click HERE to learn more about the Community Birth Stories Project or to submit your own birth story.