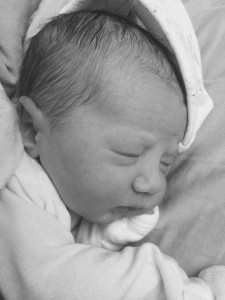 As told by Amanda:
For many women contractions start at the onset of early labor and within a day or two a beautiful baby arrives earth-side. For others contractions start weeks away from our child's birth day, and it can become exhausting and frustrating. I had experience prodromal labor with my first, but wasn't prepared for how much I would endure with our second.
First I'll back up and give a bit of history on how we came about our providers. Initially we discussed a home birth, but the house we lived in was dirty with mold and mildew. The thought of being pregnant there worried me, and the thought of birthing a child into that house was revolting. So I talked to many local women and decided on an OB who had the reputation of being quite natural. But a few short weeks after starting care with him we were able to get out of our lease and purchase a beautiful home.
So Eric and I started discussing a home birth and looking into options. The pickings here are slim and I knew right away one provider wasn't for us. That left one practice about 45 minutes away. I met with the 3 midwives (New Moon Midwifery), who worked seamlessly together, and loved them from the start. However, with the distance and notoriously bad Ohio winters we were hesitant. At around 25 weeks I just didn't feel comfortable discussing my birth plan with my OB, and he didn't seem receptive. So I transferred care to a midwife group that would deliver in the hospital. By my second appointment I knew that wasn't right either. So we hoped for good weather, and that New Moon would take me at such a late time. To our relief they did!
At 30 weeks I started with consistent evening contractions. Every 7 minutes, always 45 seconds apart. At first they lasted only an hour, two at the most. So we (myself and my midwives) weren't terribly concerned. But around 32 weeks, despite proper hydration and rest I had several hours of contractions. Since I was still early I was advised to go to the hospital. After a few hours there I was released with no reason as to why I was contracting so much, and by about the second hour I was no longer having them. Fast forward to 35 weeks and it was the same. This time I was able to go to a much closer hospital that was a bit more thorough. After some insistence on my part, they tested my electrolytes. My sodium was low, and after some lactated ringers they stopped. Now that sodium was on my radar I was able to avoid anymore hospital visits, but I still had plenty of prodromal labor.
It was becoming worrisome to me at this point that I wouldn't get a clear line as to when I was actually in labor. With Halley my water never broke – and I was worried I'd be conservative when needing to call. My midwives, however, reassured me that even if it were a false alarm there was no burden on them for the drive. So I paid very close attention to my contractions, noting how they were moving and how my body was responding. At nearly 38 weeks I made the call to have them come down. Jamie and my doula, Martha, headed down. My contractions had been closer than usual and felt slightly different so we felt it was time for them to come. I was also feeling anxious which I hadn't previously. After about 2 hours there was no change, and by 3 they fizzled out. They left and I was feeling even more upset. I kept asking myself, "How will I ever know when it's time, and will I make that call in enough time for someone to get here?"
Then, on the morning of February 22nd, I woke up and started having contractions. I had yet to have contractions in the morning, so either my body was gearing up for baby time or I was in for several more days/weeks of all-day prodromal. At around 9am I called Anna, the midwife on call, and explained to her what was going on. They were every
10 minutes, 45 seconds long and felt slightly different than my usual contractions. She was glad I called and told me to keep her updated if anything changed. At this point I had no other big shift. I had been loosing my mucous plug for weeks, and my water hadn't broken either.
At around 2:30 Eric left with Halley, and around 4:30 my contractions had shifted to 7 minutes apart. I called Anna, and she said she would come down to be with me after she had finished a few things in Ann Arbor. It was around 6:30/7 PM that she arrived. At this point Eric had come home, but we decided to leave Halley at his parent's house. Anna checked me and I was at 4cm, but we both knew that didn't really mean anything. I was 3cm with Halley for over a week – so it wasn't a reliable indicator. She didn't want to leave yet because the baby was so low, if there was a shift she felt labor would progress quickly.
So Anna got busy with some work, and I sat down and watched "Wildest Africa". Why I picked this I have NOOOO idea. But the narrators voice was so soothing. I don't' really remember any of the actual content. Just his voice. I still find that comical today. My contractions felt stronger, but not strong enough. For several hours we hung out like this. Anna recommended I try lying down, but I couldn't get comfortable. At one point I got up from lying down and could feel the baby move down. I told her such, and we decided to check again. I had only progressed about ½ a cm, but the baby had moved down even more. Halley was not willing to stay at my in-laws, so Eric went and got her.
At this point she felt I should try to sleep. That could either speed up contractions or stop them. Either way, she was staying the night. She lived 1.5 hours away, and didn't want to get on the road, only to turn back. So I went to bed, and she chose the couch to lay on. This was around 10:30pm. By 11:00 my contractions had really picked up in intensity, and I had stopped timing them at this point as well. Intense back pain accompanied as well. I came out to the play room and woke Anna. We headed into the bedroom, as she wanted to see me have a contraction. I laid in bed, and she watched. But apparently I have some sort of performance anxiety and several minutes went on without a contraction. She decided to get up and grab something and the moment she left the room I had another. This happened several times, and then finally she was able to witness a contraction. She could see how much pain I was in and offered to rub my back and apply counter pressure. After a few contractions we decided I should call my doula, and she the other midwife (2 attend each birth) since they both lived 30-45 minutes away). I got up and went to the bathroom and she put plastic down on the bed.
(At this point Halley kept waking and crying, so Eric stayed in her room to help keep her calm and asleep. )
As soon as I laid down another contraction came, and this was stronger. Anna applied counter pressure and I felt a POP inside of me. Moments later water gushed from me, and we knew this was the real thing. I started having one contraction after another. Each one getting stronger. Unfortunately it would seem there was no time to set up and fill/cool the birth pool. Anna applied pressure and massage during contractions, and then ran around setting up needed supplies. At this point neither Martha or Amanda had arrived yet. I'm not sure how long it was before either of them got there. I don't remember Martha coming into our room, all I remember is that the massage felt different. So I knew she had arrived. When Amanda arrived I recall her telling me she was there. And that's pretty much all I remember. I was deep in my birth space, breathing slowly and purposefully through each contraction. Between contractions I think I slept…because I honestly don't remember anything other than the contractions themselves.
Then I had a huge, long contraction. I recall asking Anna, "How much longer of this?" To which she replied, "We don't know, but I don't think it will be long now."
The next contraction I felt the head move down and indicated as much. They could now see her head. The next contraction was one I will never forget. It consumed my entire body. My lungs felt squeezed so tightly that I couldn't breath. At this point I had kept a nice breathing pattern down, and let my body go with the ebb and flow. But this contraction took me by surprise. I recall thinking to myself, "will this ever stop…will I ever breath again?" And when it let up I began gasping for air. Someone reassured me I was OK, and to breath deep again. At which point I found my calm again.
There were a few pushes for her head, and some light burning. But once her head birthed her entire body just slithered out effortlessly.
At 1:36am Cypress Zofia was born and promptly placed on my chest. Eric was able to be by my side for the birth, and we loved on her as we waited for the placenta to deliver. Since her cord was so short she stayed on my belly for about 15 minutes, at which time the placenta was delivered. Once it stopped pulsing they cut the cord and we started to establish breastfeeding. She cried and fussed at the breast for an hour, and Anna said in her experience babies that come quickly have a lot to say at first. But once she settled in she was quite content. Eric and I lay in bed together enjoying the sight of our new baby girl, while the midwives and Martha cleaned up, prepared an herbal bath and food for me. After about three hours, and making sure Cypress and I were healthy, they left and we all drifted off to sleep.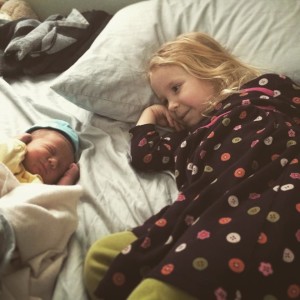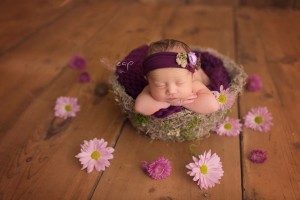 ———–
Click HERE to learn more about the Community Birth Stories Project or to submit your own birth story.